Many opposers of President Barack Obama's executive actions on immigration argue the move is illegal.
It is also a setback for the long-term agenda of immigration reform, argued Clint Bolick, who is with the Goldwater Institute in Phoenix.
He said the U.S. Constitution doesn't point to the president having any power over immigration policy changes.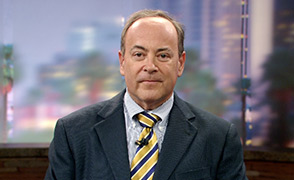 Clint Bolick of the Goldwater Institute in Phoenix.

AZPM Staff
"He is bound by the laws that Congress has passed," Bolick said. "And I think that this action exceeds and changes the laws under which he is purporting to act...this goes far beyond his lawful powers, unfortunately."
Gov. Jan Brewer Thursday authorized Arizona joining a multi-state lawsuit challenge Obama's actions on immigration. In a statement, Brewer called the actions "illegal and unconstitutional."
On Nov. 20, Obama took action to expand deportation deferrals for as many as 5 million people in the country illegally, but who have children who are U.S. citizens or legal residents and have no criminal record.
The move is also not the right way to go about reforming the system, because there is uncertainty of what will happen when a new president steps into office, Bolick said.
"The only way these people can feel safe and secure and become a permanent part of the American family is through congressional action," he said. "Unfortunately, the president circumvented that."
"To the extent that it brings people out of the shadows, allows them to work...that is a wonderful thing," Bolick added. "But...it really does leave people in a state of limbo."
At least 17 states, led by Texas, have joined the lawsuit seeking to have Obama's actions on immigration stopped.