The University of Arizona Police Department is asking for public comment about its policies and enforcement practices.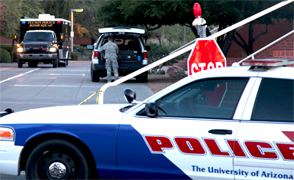 Christopher Conover, AZPM
Every three years, UAPD is evaluated by a national agency that oversees law enforcement.
Officials say the inspection ensures the department's policies are in line with contemporary law enforcement practices.
Meeting the standards of the Commission on Accreditation for Law Enforcement Agencies is a voluntary process for police agencies. According to UA Police Sgt. Filbert Barrera, it's also considered an achievement.
"It's something that we do voluntarily, it's something we take a lot of pride in. It's a very arduous process and there's a lot of stuff that goes into as far as documentation of everything we do," he said.
Barrera said the department was the fifth college police agency in the nation to be accredited when it passed inspection by CALEA in 1993.
University employees, students, and community members can share comments about the police department at a meeting the night of Monday, Dec. 8 at the Swede Johnson Building on the UA campus.