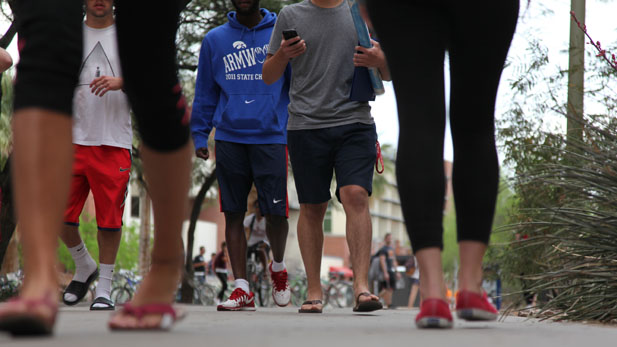 On the University of Arizona campus.

Andrea Kelly, AZPM
Listen:
Greek Row is nestled in the heart of the University of Arizona campus on First Street. It's lined with two-story fraternity and sorority houses, some with white columns, manicured lawns, all with large Greek letters hanging from their walls.
The Greek system – and everything that goes along with it- has long been a part of the life at the UA. It was, undoubtedly, one of the factors that Playboy Magazine took into consideration when naming the school the fourth best "party school" in the nation.
But, this year has been rocky for the fraternities on campus.
The semester started with Phi Gamma Delta, known as Fiji, losing its recognition, following the death of a freshman student, who'd been drinking at a house party, earlier in the year.
Fiji is one of five frats that have been kicked off campus since 2012. Another, Sigma Alpha Epsilon, was temporarily suspended when 20 of its brothers assaulted members of a Jewish fraternity earlier this semester. Of the 17 frats in the Interfraternity Council, 10 are under sanctions.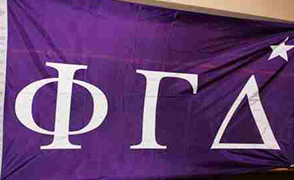 Phi Gamma Delta, known as Fiji, lost its recognition after a freshman student, who'd been drinking at a house party, died earlier this year.

Phi Gamma Delta website
But, what does that mean?
"It could mean anything from they can't have activities in their house with alcohol, or they need to do an organizational review and determine who should remain members, who shouldn't," explained Dean of Students Kendal Washington White. "It could mean we want them to participate in some sort of educational opportunity, such as our personal responsibility workshop."
Generally, frats are put under sanction when they're caught breaking rules on underage drinking, or for putting pledges in danger during hazing.

But is any of this new? Not really. What's new is the level of scrutiny frats are subject to.
"When there (are) actions or allegations that we think place the campus community in danger, we're going to immediately place the organizations on...suspension rather than waiting until we complete the investigation," said Washington White.
The university keeps close tabs on frats – and details on every suspension and sanction is available online.
One fraternity member that belongs to a house on Greek Row spoke on the condition of anonymity. His frat had gotten in trouble for alcohol violations. Too many minors had been caught drinking at their parties. And, as a result, this year the house is only allowed to throw one party, which has to be registered with the university.
He said he doesn't think the sanctions are fair - that fraternities aren't given the same treatment as other organizations on campus.
"There are people that aren't in fraternities who throw parties all over the place and they do just as worse things, they get in just as much trouble, and it goes under the table because they're not (in) Greek life," he said.
He pointed out that his frat does a lot of work in the community. They volunteer for Tucson Clean and Beautiful. They donate thousands of dollars to charities.
"And none of that gets publicized. But if we get one girl who goes to four other houses, and comes here at the end of the night and has already had too much to drink, we get in trouble for that," he said.
When it comes down to it, alcohol is usually what gets frats into trouble.
David Salafsky, who works with the campus health services, said that what's happening at the UA mirrors what's going on around the country.
"Students who are members of fraternities and sororities have higher rates of alcohol use compared to the general student population," Salafsky said.
So, frat houses that get in trouble for alcohol violations have their activities strictly monitored. But, individuals also face consequences. When students on campus get in trouble for drinking, they often end up either in group counseling sessions at health services, or in one-on-one sessions.
Washington White said the counseling sessions are an important element of the university's efforts to educate violators rather than discipline them.
"We recognize that they're in a certain developmental stage and it's our responsibility to hold them accountable, but also provide them with the education that helps them understand how their behavior impacts the university, the community and themselves," she said.
She said the Greek system wasn't founded on partying: "They were based on service, philanthropy, academics, scholarship and all of those things."
Washington White said she thinks most frats have strayed from those founding principles, but if only they could return to their roots, there would be far fewer houses in trouble.