The Newsmaker interview this week is with lead Phoenix Mars Mission investigator Dr. Peter Smith, Ph.D. The University of Arizona leads the Phoenix Mission on behalf of NASA, with project management by NASA's Jet Propulsion Laboratory, located in Pasadena, Calif.
Nearly a week after an almost flawless landing, the Lander is returning detailed images from the surface of Mars. Scientists have discovered what may be ice that was exposed when soil was blown away as NASA's Phoenix spacecraft landed on Mars last Sunday, May 25. Phoenix is getting its bearings and the science is about to begin in earnest.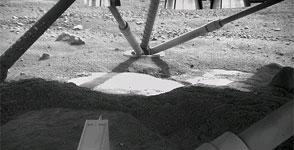 Phoenix Mars Mission Site
NASA Phoenix Mars Lander Site
HiRISE site
Christopher Conover is in for vacationing Bill Buckmaster. The Roundtable panelists are Ann Brown of the Arizona Daily Star, Mark Kimble of the Tucson Citizen and Jim Nintzel of the Tucson Weekly.