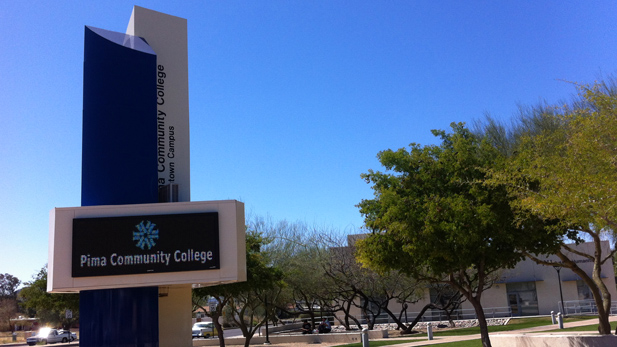 Pima Community College Downtown Campus.

Fernanda Echavarri, AZPM
Pima Community College should come off probation because it has made "significant progress" on the issues facing it, an accrediting evaluation team has recommended.
College officials released the evaluation team's report Tuesday in Tucson.
The school has been on probation and in danger of losing its accreditation since April 2013.
An evaluation team from the Higher Learning Commission, which accredits Pima and other colleges, submitted the recommendation, saying the school should be put "on notice" and closely monitored to make sure it implements needed changes and sticks to them in the long term.
Pima's probation was driven by problems with its former chancellor, Roy Flores, who was accused of sexual harassment, intimidation and fiscal mismanagement. Pima's publicly elected Board of Governors was criticized for not providing appropriate governance and for going along with Flores on many issues.
Flores took medical leave and then retirement in early 2013.
Lee Lambert was hired in the summer of 2013 to lead the college out of probation and get its accreditation renewed. Lambert has led a series of teams looking at nearly every aspect of the school's operations over the last 17 months.
He has said repeatedly that he was confident in the progress being made and expecting it to lead to a lifting of probation.
The college has five Tucson campuses and has seen a significant enrollment decline in recent years.