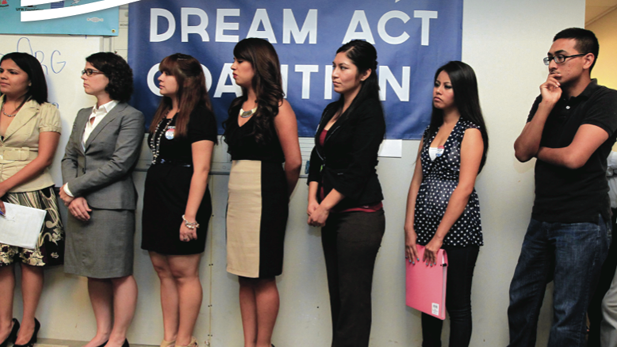 Arizona applicants for Deferred Action for Deportation, in September 2012.

Center for American Progress
Listen
Arizona Gov. Jan Brewer's request to delay issuing driver's licenses to "Dreamers," immigrants for whom deportation has been deferred, was denied by a U.S. Supreme Court justice Wednesday.
"The application for stay presented to Justice (Anthony) Kennedy and by him referred to the court is denied," a Supreme Court order said. It added that three other justices would have granted the delay.
The order means the state must begin offering driver's licenses to an estimated 20,000 young adults and teenagers who have been granted temporary deferral of deportation orders under President Barack Obama's 2012 executive action. The case is still pending acceptance for full Supreme Court review.
It was unclear when licenses will begin to be issued.
Brewer has fought at every level to keep the undocumented young people from getting driver's licenses, including issuing her own executive order following Obama's in 2012.
The Republican governor, who has clashed with Obama and other administration officials over immigration, has argued that the young people in question are not in the country legally, despite the president's action.
The ACLU of Arizona represented the Arizona DREAM Act Coalition and others in the case.
"Dreamers in the state have really been battling this wrong decision by Governor Brewer and the state, so this is really an important moment for these young people, their families and their communities who've been fighting for this for many years," said Victoria Lopez, attorney with the ACLU of Arizona.
The case has gone from U.S. District Court in Phoenix to the 9th Circuit Court of Appeals in San Francisco and now the Supreme Court.
Brewer's request was to delay implementation of the 9th Circuit Court's order that licenses be issued pending her appeal to the Supreme Court.
The court's order said Justices Antonin Scalia, Clarence Thomas and Samuel Alito favored granting the delay.