It's sol 10 for the Phoenix Mars Mission, and the team of scientists at the University of Arizona are moving forward with the steps necessary to deliver the first samples into the TEGA instruments. Peter Smith, principal investigator of the mission provides us with an update.
The Phoenix team learned that NASA's Odyssey orbiter, which relays Phoenix data to and from Earth, had entered a "safe mode," preventing Wednesday's (or Sol 10) instructions from reaching the lander.
Instead, Phoenix will complete a sequence of commands that are already stored on board. That sequence includes instructions for the lander to continue taking images required to assemble a full-color 360-degree high-resolution panorama.
Odyssey mission managers are doing a check out of the orbiter to determine what triggered the safe mode. During safe mode, the spacecraft turns off non-essential operations and waits for instructions from Earth. In the meantime, the Phoenix team has been directed to issue commands to the lander and receive data through Mars Reconnaissance Orbiter (MRO). While Phoenix has been primarily utilizing Odyssey for relay services since MRO's UHF radio unexpectedly powered off during a relay pass on Sol 2, the radio has been exercised repeatedly over the past week and appears to be operating well.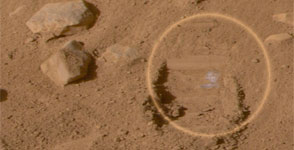 The two practice digs have already enticed scientists about some bright material in the soil just beneath the surface.
"Two scoops into the soil we see there's a white layer becoming visible in the wall of the trench," said Carol Stoker of NASA Ames Research Center, Moffett Field, Calif., a member of the Phoenix science team.
Phoenix Principal Investigator Peter Smith said, "We've had an impassioned discussion of whether that may be salts or ice or some other material even more exotic."
Concentrations of salts can be indicators of formerly wet conditions. One goal for the Phoenix mission is to determine whether the ice beneath the surface of far-northern Mars ever thaws during long-term climate cycles.
Phoenix Mars Mission Site
NASA Phoenix Mars Lander Site
HiRISE site