Listen:
Tucson police will scale back enforcement of Arizona's SB 1070 immigration law, in part because of President Barack Obama's action on immigration, Police Chief Roberto Villaseñor said Thursday.
Villaseñor said his officers will begin immediately limiting whom they check immigration status and notify Border Patrol for. Checks will be made on those deemed national security threats, having gang affiliations or prior felony convictions.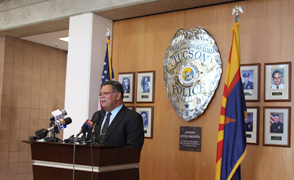 Tucson Police Chief Roberto Villaseñor speaking at TPD's headquarters.

Fernanda Echavarri
That's in line with Obama's executive action that made a distinction for people who could qualify for deferral of deportation orders based on their longevity in the country and having clean records.
Villasenor said of more than 11,000 calls his officers have made to Border Patrol since summer, the agency responded to fewer than 100.
"At this point it, it's really a futile effort to call them," he said. "Less than half a percent of the time if they take anyone in custody that we stop, that's not really a practical application of the law."
SB 1070 requires police to check immigration status when they have reason to believe someone is in the country illegally.
Civil rights groups have said the law leads to racial profiling, while proponents of the law deny that. They say it has built-in safeguards, including police training, to prevent profiling.