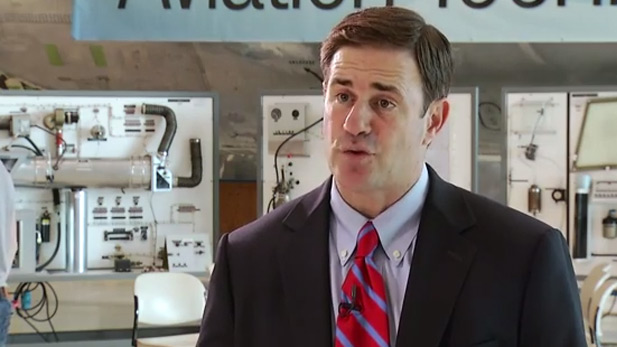 Republican Doug Ducey succeeds Jan Brewer as Arizona governor.

AZPM Staff
Arizona tax revenues continued to come in below state budget projections, $20.6 million shy in November, the Joint Legislative Budget Committee reported Friday.
It was the eighth straight month that tax revenues have been below the budget, the report said. For the first five months of the fiscal year, tax collections were $91.9 million, or 2.6 percent, short of budget.
The report says lower than expected increases in sales taxes and income taxes contributed to the November decline. Sales tax revenues rose more than 3 percent, while they have gone up 5 percent or more in previous months.
Projections are that the state will face a deficit of $500 million to $1 billion by the end of the fiscal year next June at current spending and tax collections levels. The higher figure would be if a judge rules the state must allocate to public schools back pay to comply with inflation adjustment requirements.
Under the state Constitution, the Legislature must pass a balanced budget before it adjourns. Gov.-Elect Doug Ducey and fellow Republicans leading the Legislature have said they will not increase taxes or consider rolling back ongoing tax reductions taking place next year for business.