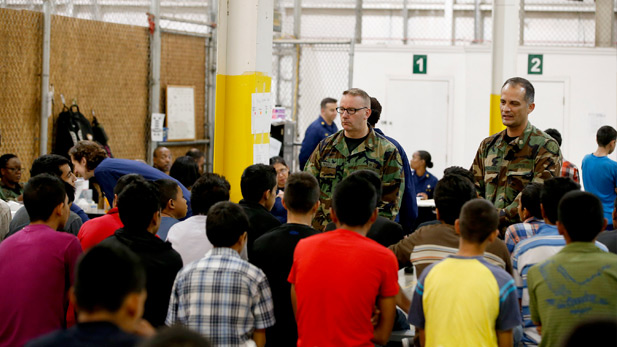 Federal agents address Central American children at a Nogales shelter in summer 2014.

AP
The Department of Homeland Security deported 414,000 undocumented immigrants in the last federal fiscal year. That's down slightly from 2013, a record year.
The number of apprehensions of people alleged to be in the country illegally rose to 486,000, DHS said in its annual report. It said 96 percent of those apprehensions were of people from Mexico, Guatemala, El Salvador and Honduras and included an estimated 60,000 unaccompanied minors from the Central American countries.
In 2013, the department reported 438,000 deportations and 414,000 apprehensions at the Southwestern border.
The big change this year was that - for the first time - more people were caught at the Southwestern border from Central America than from Mexico, the report said.
The Tucson Sector of the Border Patrol, for more than a decade the place where the highest number of apprehensions occurred, ranked No. 2 for the second straight year, behind the Rio Grande Valley in Texas. That's where the biggest numbers in the surge of children from Central America came across the border last spring and summer.