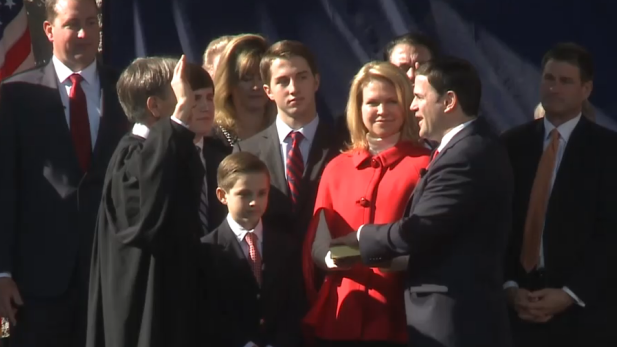 Doug Ducey takes oath as Arizona governor, Jan. 5, 2015.
Listen:
Doug Ducey was sworn in shortly after noon Monday as Arizona's 23rd governor.
The Republican takes the state's top elected position after four years as state treasurer.
Ducey began his inaugural speech by lauding his predecessor, Jan Brewer, and the state's other surviving former governors, starting with Democrat Raúl Castro, who was not at the ceremony.
He then set his philosophy for governing.
"Opportunity for all: this was the defining commitment of my campaign," Ducey said. "And you won't hear me changing the subject these next four years. Whether it is spending, or the tax code, or changes in our public schools and legal system – or any other policy question – my first priority is simple: put more opportunities and greater freedom within reach of all our citizens.
Ducey repeated his pledge to be "governor for all the people. ... everyone (must be) given a fair chance and even a second chance, no one forgotten, no one written off."
He addressed the state's fiscal issues up front.
"I will submit balanced budgets to the House and Senate," he said. "Fair warning: The budget will not meet with general approval among special interests – and if they did approve, I would start to worry."
He also pledged to find more savings in state government and repeated his promise not to raise taxes.
"In the plainest terms, it's not that the people are taxed too little; it's that their government is spending unwisely," Ducey said. "Raise taxes and you haven't solved anything. All that does is excuse the ineffective spending and invite more of it."
He also called for educational opportunity for all Arizona children, saying the public school system has some great schools and more reform can expand on that.
"No matter how much we grow in prosperity, the right to a real education will not depend on family wealth or sheer luck," he said. "It will be a first principle of my agenda that schools and choices available to affluent parents must be open to all parents, whatever their means, wherever they live, period."
Ducey comes into office facing a deficit of as much as $1 billion for the fiscal year that begins in July and a court decision coming soon on how much the state owes for public education funding.
Ducey will have to factor the slow economic recovery against those issues as he writes his state of the state address for next week. He also must put together a state budget to be delivered to the Legislature by Jan. 16.
Also taking the oath of office Monday were seven other Republicans who won election in November. They are Secretary of State Michele Reagan, Attorney General Mark Brnovich, Superintendent of Public Instruction Diane Douglas, Treasurer Jeff DeWit, Mine Inspector Joe Hart and Corporation Commissioners Tom Forese and Doug Little.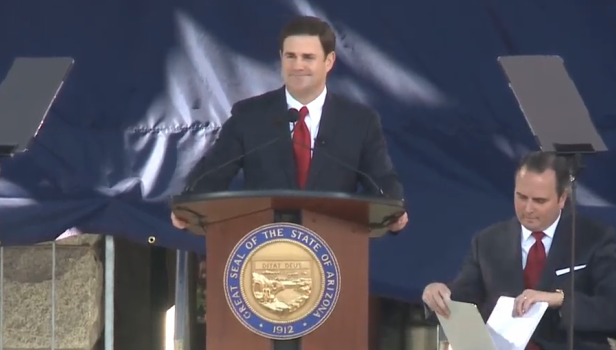 Gov. Doug Ducey at his inaugural Monday, Jan. 5, 2015.