Although people have been predicting for fifty years that Phoenix and Tucson would merge into one giant urban conglomerate, land ownership patterns in central and southern Arizona will likely prevent that.
But, according to Megapolitan authors, the economies of metro Phoenix and metro Tucson are merging. With approximately 5 million people now and nearly 8 million projected for 2030, this is where the economic center of gravity will be for this entire desert region.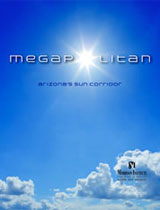 Download Megapolitan: Arizona's Sun Corridor.