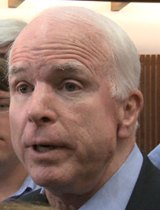 U.S. Sen. John McCain, R-Ariz. (PHOTO: AZPM)
Arizona Sen. John McCain says he is likely to run for re-election in 2016.
The new Senate Armed Services Committee Chairman told the Associated Press he's leaning toward running for a sixth term. He said he wants to focus on national security.
His emphasis has been on foreign affairs, national security and the armed services. McCain is a Navy veteran who spent more than five years in a North Vietnamese prisoner of war camp from capture shortly after his plane was shot down in 1967 until his release in 1973.
McCain and his party have clashed in recent months, with the state Republican Party censuring him, saying he is insufficiently conservative. He's been dogged by conservative criticism over his views on immigration and campaign finance since he first ran for Congress in 1982.
McCain was elected to the House that year and to the Senate in 1986. He ran for president in 2000 and 2008. As the GOP nominee in 2008, he lost to President Barack Obama.
McCain is 78 years old and will turn 80 six weeks before the 2016 general election.