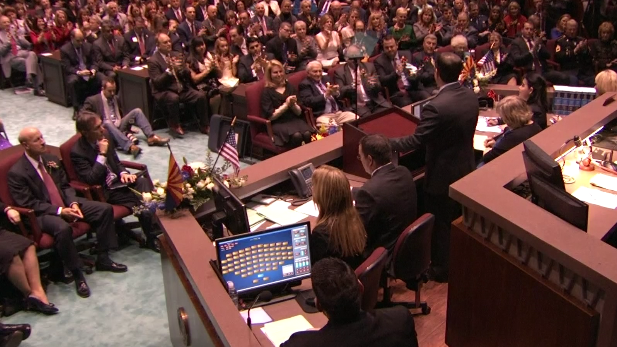 Gov. Doug Ducey addresses a joint session of the Arizona Legislature, Jan. 12, 2015.
Listen to the story:
Arizona Gov. Doug Ducey Monday ordered state hiring frozen and said he will not allow any tax increases to balance the state's deficit-beleaguered budget.
Ducey, in his State of the State speech before a joint session of the Legislature, repeated his admonition about tax increases: "not on our watch."
The 28-minute speech was interrupted numerous times by applause, most of all when Ducey called for decisive action on state spending and on his pledge not to raise taxes or back away from tax reductions soon to be in place for businesses.
"Any way you look at it, canceling Arizona's tax reforms is the wrong way to go," Ducey said. "They were designed to put more life into our economy."
He also said he will call for a permanent indexing to inflation of the state income tax, meaning that when people's incomes go up because of inflation, they won't have to pay more in taxes as a result.
He said the budget can be balanced by reducing bureaucracy, something he said an "unbiased inspector general" can help with by ferreting out "bureaucracy and corruption." He asked the Legislature to pass a bill providing that authority.
"In turning to our state's checkbook, we start with the number $1 billion," Ducey said of the impending deficit. "I am not persuaded by appeals to raise taxes so we can raise more revenue. ... We demand more fiscal responsibility from our government."
To that end, the Republican governor said, he has put in place a hiring freeze, except for public and child safety, and will eliminate the state's Washington, D.C., lobbying office and lobbyist.
The only other specific he cited was to call on the state, led by Attorney General Mark Brnovich, and the state's public schools to settle the lawsuit in which the state was ordered to pay $317 million in back inflation adjustments to the schools. That payment, if required to be made all at once, could drive the state to the $1 billion deficit.
Ducey said his budget proposal, coming to the Legislature Friday, will provide as top priorities public safety, justice, public school classrooms and the vulnerable.
He cited his action last week in putting a moratorium on state government regulations and said he will add to it by conducting a statewide review of regulations already in place, eliminating those that get in the way of business expansion.
The governor said he signed an executive order Monday creating a group to look at ways to reduce public schools administrative spending and get the money into classrooms. He also called for more capital spending for some schools through borrowing from the state.
He also called for finding ways to put to use some of what he said are 400,000 empty seats in public schools by creating what he called the Arizona Public School Achievement District. That will allow parents to move their children to schools in which they can get good educations, he said.
"The quality of a child's education should not be determined by what neighborhood their parents can afford to live in," Ducey said. "Let's make open enrollment and parental choice a reality, not just a talking point."
"I will not accept this inequality," he said of disparate opportunities for children from families with means and those from poor families.
Ducey issued a warning regarding school districts where "local control" means it has gone into the hands of protected superintendents and bureaucrats, saying he will take action.
Listen to the entire State of the State Address: