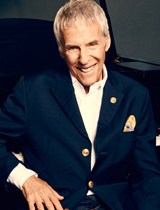 Burt Bacharach
It's difficult to imagine a musical career more successful than Burt Bacharach's. He was born in Kansas City but grew up in New York, and he was first truly inspired by the music he heard when he used a fake I.D. to see Dizzy Gillespie and Charlie Parker perform on 52nd Street.
Now at age 86, Bacharach has written and produced more than 70 Top 40 hits, been awarded multiple Grammys and Oscars, and keeps busy collaborating with artists including Elvis Costello, Adele, and Dr. Dre. He'll be playing Tucson next Wednesday as a part of the Tucson Jazz Festival.
Bacharach began the interview by sharing his disappointment at having one of his recent San Francisco shows cancelled due to rain...
Listen:
In an additional part of the interview not used on radio, Mark McLemore asks Burt Bacharach to talk about the origins of one of his most popular songs. "The Look of Love" was first sung by Dusty Springfield for the soundtrack of the James Bond satire "Casino Royale" in 1967:
Bacharach: Well, let's see, there is an example of writing something for Ursula Andress, very sexual, sensuous thing. It was the second film that I ever scored and that had five directors on it so I got no help from any director.
But most of that music was written out of desperation, not knowing what I was doing and writing it in England in a rented apartment in the middle of winter. Oh Jesus, I mean we got through it you know and we were going to live through this and we got some great music out it you know. I do love the main title and I do love The Look of Love, you know, so some good music came out of there.
McLemore: Well see, I would never know that story because of the confidence that I hear in the music. It never cross my mind that there was any turmoil. But the point you make about the five directors -- that does put you out to sea a little a bit, which maybe…
Bacharach: Because there was no director left, see they'd all gone, John Houston gone right? John Boorman had gone. I mean they all did a segment and it was just a mess of a picture.
McLemore: Some of it brilliant, some of it not so...
Bacharach: Yeah, I agree.
McLemore: But the music stands.
Bacharach: I lived through it and I was proud of it and sometimes when you are backed up against a wall, you know, and you got to write it quickly which is not favorite my way to do, it probably took me three weeks to set but it's good because maybe I will wind up close to what I had to when I started Mark, you know? But, I rehearsed the talent given me, and to set it, which I like to write that way by the way, give me a lyric and let me set it and it will take me in different places.