Listen:
Pima County is using a new computer program to help connect homeless people with housing and other services, and officials say it will change the metro area's approach to ending homelessness.
The new system evaluates a homeless person's specific needs with questions such as how often he or she has been without permanent housing, or what medical services the person is looking for.
It will help direct people to the right non-profit organization offering the appropriate services, instead of making them try several shelters, for example, to find one that meets their needs, said Pam Moseley, a program specialist with the Homeless Management Information System in Pima County.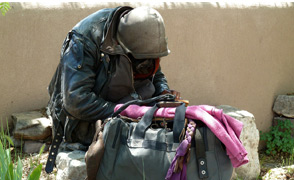 Homeless man on a cold day
"Sometimes the person ends up trying a number of places until they actually get connected with something that can help them," she said. "This system is designed to use a common assessment so everybody is given the same questions to assess their situation and then rather than trying to check with different places to see if they can help them, they'll be directed to an opening in the community of a housing program to assist them."
This is a shift from the previous approach, she said.
"We have always just kind of tried to serve people first-come-first-served, and now we're starting to look more closely to see who's really sick or who's really vulnerable and how do we look at helping people that need it the most," she said.
She says employees at shelters and job placement services got training in the new computer system in January.
"Hopefully it will also make the providers serving people more efficient," she said.
The Pima County Employment Services and Training Department and the Tucson-Pima Coalition to End Homelessness are managing the system, she said. One of the goals is consistent and efficient care and services.