University of Arizona President Ann Weaver Hart reports to Board of Regents Feb. 5, 2015.

AZPM
Cuts to the budgets of Arizona's three public universities "are imminent," Regents President Eileen Klein told the board at a Thursday meeting in Tucson.
At the meeting on the University of Arizona campus, students turned out en masse, asking to be heard on tuition and other university financial matters.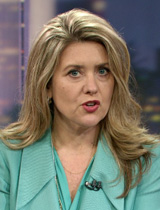 Eileen Klein, president of the Arizona Board of Regents. (PHOTO: AZPM Staff)
It was the regents' first regular meeting following release of Gov Doug Ducey's budget, in which he called for a $77.5 million reduction in state funding to the three universities.
In her report to the board, Klein painted a stark and straighforward picture.
"It is clear that cuts are imminent," Klein said. "So while we want to work hard to mitigate the cuts ... it is very clear that the university system in Arizona will face reductions."
Klein said the universities will work to make sure that cost cuts don't end up being "shifts to families ... to students and families."
She said she wants the Legislature to allow the details of budgeting and budget cutting up to the regents and the three universities' administrations. Doing so will take work building relationships, she said.
"We are working on our relationship with the state, which I would describe at this time as tenuous," Klein told the board.
Board Chairman Mark Killian told students they would be heard, and during a break, they circled him to discuss the issues. Killian told the students, "We don't always get what we want in life."
The students, many of them in graduate school where they work teaching classes and in research, asked for budgeting transparency and "living wages" from the university.
UA graduate student Zachary Brooks, speaking to the regents at the opening of the meeting, was critical of the governor's budget proposal calling for an increase of $50 million or more for the state prison system in the face of the proposed reductions in educational spending.
"Increasing prison spending while cutting higher education is wrong," Brooks said. "A student is more likely to start a business than a person incarcerated."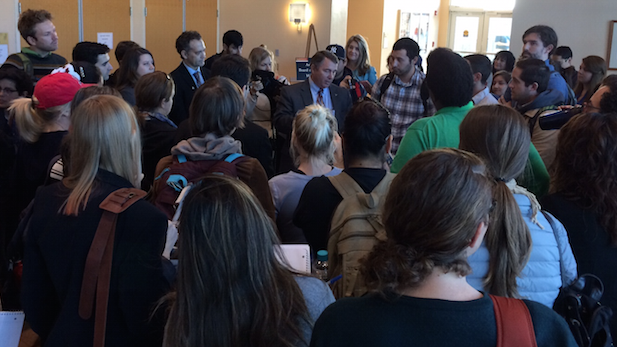 Arizona Board of Regents Chairman Mark Killian (center) meets with University of Arizona students, Feb. 5, 2015.

Lorraine Rivera, AZPM