The Pima County Board of Supervisors Tuesday turned away a proposal to ban hiring smokers but agreed to charge an insurance premium surcharge for county workers who light up.
The workers would not have to pay the surcharge if they complete a smoking cessation course in the next fiscal year. The vote was 4-1 with Ray Carroll dissenting.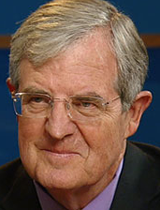 Pima County Administrator Chuck Huckelberry. (PHOTO: AZPM)
County Administrator Chuck Huckelberry proposed the ban on hiring tobacco and nicotine users, saying it was driving the county's self-insurance costs.
The surcharge will be $30 per pay period for the 2015-16 fiscal year, and increase by $10 per pay period each year until reaching a maximum of $60 per pay period. Employees who are tobacco/nicotine free will be eligible to receive a healthy lifestyle premium discount of $5 per pay period, the county's press office reported.
The county's statement said tobacco users cost the county more in health care-related costs than any other category of employee, including obesity.
Approximately 32 percent of the county workforce of 7,200 full-time equivalents smokes or uses tobacco products, compared with 21 percent og adults in the U.S. population, the county reported.
Based on these numbers, county Health Director Francisco Garcia estimated that tobacco use by county staff costs the county more than $10 million annually.