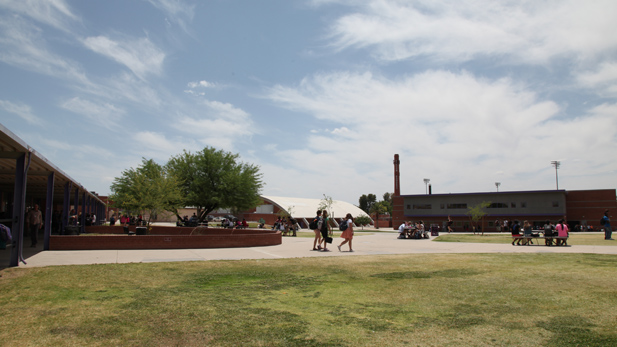 Students at University High School

Fernanda Echavarri
Listen:
Tucson's largest school district canceled standardized state testing scheduled for Monday, Tuesday and Wednesday and instead will hold regular classes, after enactment Friday of a law eliminating the exam requirement.
Students throughout the state have been preparing for the test, Arizona's Instrument to Assess Standards or AIMS.
But emergency legislation signed into law Friday eliminates the requirement that students pass a standardized test to graduate from high school. The law applies to those graduating between 2015 and 2018.
"We think it would make sense that at a time when our state assessments and our standards are currently in flux that our high school students would not be required to pass a statewide standardized test," said Ricky Hernandez, with the Pima County School Superintendent's Office.
The Arizona Legislature passed the bill, and though Gov. Doug Ducey was out of state, he asked Secretary of State Michele Reagan to sign it.
"Signing the bill today provides certainty to our public schools that the assessment need not take place and assures parents and teachers that this assessment does not impact graduation requirements," Ducey wrote Friday.
When the governor is away, the secretary of state becomes the state's top official. Reagan followed through with Ducey's wishes, and the law went into effect Friday.
Statewide testing for AIMS, was scheduled to begin Monday, and Ducey told Reagan that's what prompted the rush to sign the bill.
Testing will still be available for "those students wishing to take AIMS for scholarship eligibility or other personal reasons," according to a news release from the Arizona Department of Education.
"I congratulate the Legislature and Gov. Ducey for removing this vestige of high stakes testing," said Diane Douglas, Arizona's superintendent of public instruction, in the news release.
The only state test that students will be required to pass to graduate is the civics exam Ducey signed into law last month. These are the only bills he has signed so far.