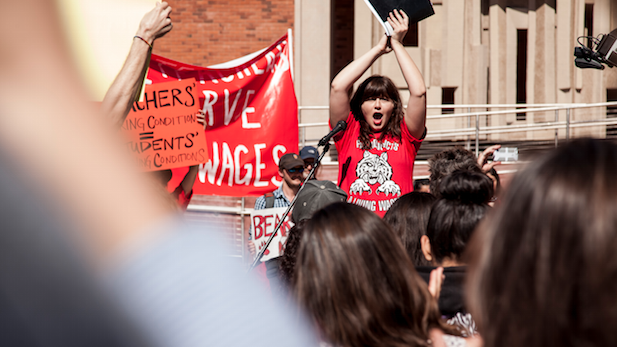 University of Arizona English lecturer Lisa O'Neill leads campus rally for better working conditions, Feb. 25, 2015.

Steve Riggs, AZPM
Listen:
More than 100 University of Arizona faculty members rallied on the Tucson campus Wednesday as part of a national campus walkout aimed at calling attention to adjunct faculty.
Adjuncts are faculty members without tenure and with only short-term contracts. Like their peers across the country, adjunct instructors at UA called for higher pay, longer-term appointments and smaller class sizes.

"Over 40 percent of the faculty at the UA is non-tenure track," said Lisa O'Neill, an adjunct English lecturer who led the rally. "We deserve job stability, support to give our students the best learning experience possible."
O'Neill said the conditions she and her peers work under take their energy away from students.

"Non-tenure track faculty are often the first point of contact that first year students have," she said. "Many of the students we're working with are first generation or ESL (English as a Second Language) students, and those students need help in adjusting to college life. In not valuing the teachers that teach them, then we're really doing a disservice to those students."
UA Vice Provost Tom Miller attended the rally and said in an interview that the administration is working to improve conditions for non-tenured track faculty, but the budget situation and more cuts coming in the next fiscal year limit what it can do.
"This is a very challenging time," Miller said. "The calls for reducing class sizes at a time where we're looking at a 10 percent cut in our state funding is probably not something we're going to be able to make progress on. But can we make progress on focused salary increases? That's what the university is trying to think through. That's what we're trying to prioritize."