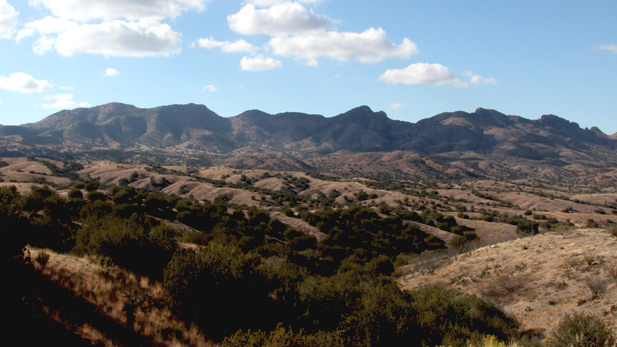 Site of the proposed Rosemont copper mine, looking west from Highway 83.

Mark Duggan
Listen:
Judge Crane McClennen has sided with environmental group Save the Scenic Santa Ritas in a lawsuit over the Arizona Department of Environmental Quality's 2013 decision to issue an Air Quality Control Permit to Rosemont Copper Company.
In his conclusion, Judge McClennen wrote: "This Court concludes there was not substantial evidence to support the action of the AZDEQ, and the action of the AzDEQ was contrary to law, was arbitrary and capricious and was an abuse of discretion."
"It is interesting in reading the judge's decision, that the court adopted completely the evidence and arguments that [Save the Scenic Santa Ritas] and our coalition had presented," said Save the Scenic Santa Ritas Board Member Dr. Tom Purdon.
"I realize that copper has been a big part of the state's past," Purdon added. "But in this instance, the stakes are so great that we can't afford to have any superficial analysis done and mistakes made."
AZDEQ issued a statement on the ruling: "We were surprised and very disappointed by the ruling. We continue to stand behind our firm belief that the air quality permit we issued is protective of public health and the environment," the statement read. "We do not believe that the Superior Court ruling was based on all of the evidence presented and we expect to file a notice of appeal as soon as possible."
Rosemont Copper Company did not respond to calls for comment.
Read the full text of the judge's decision here.