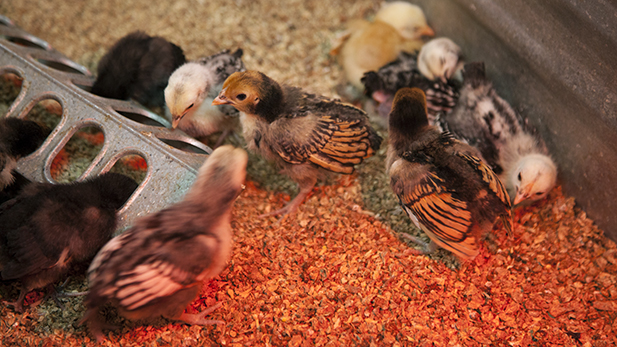 Baby chickens are pictured at the Arizona Feeds Country Store in South Tucson on April 2, 2015.

Mariana Dale, AZPM
Listen:
Unwanted Easter pets released into the wild can wreak havoc on native animal populations.
The Arizona Game and Fish Department is warning people who are buying animals as Easter gifts to be sure they will be well cared for after the holiday.
A bright goldfish, downy chick, or fluffy baby bunny could make cute, seasonal gifts in the spring, but when people who don't know how to care for them release them into the wild, they can disturb native animals the state is trying to reintroduce in local habitats, said Mark Hart, spokesman for the Arizona Game and Fish Department.
"What we would like them to do if they decide they can't keep it, is give it to someone who can, give it to a school classroom, or a science education center, or even a museum," Hart said. "Better to give it to someone who can really care for it than release it into the wild because you're hurting other species by doing so."
The Arizona Game and Fish Department is especially worried about goldfish, Red-eared slider turtles, Southern leopard frogs and ducklings, Hart said, because of their impact on the native or sport populations the department is trying to restore or foster in the wild.
Those animals either crowd out the native animals or eat them, Hart said.
"We see this most often in waters in proximity to residential or urban areas,," he said. Specifically the state sees them in Kennedy, Silverbell, Lakeside and Sahuarita lakes, and Agua Caliente Park.
The timing of the department's warning corresponds with an increase in sales at Arizona Feeds Country Store South.
"Today alone we've probably gone through 15 bunnies and in the last week 100 or 150 chicks," said Caline Gottwald, a shift supervisor at the store.
With each purchase, the store staff educate customers on the animals' needs, she said.
Chicks, for example, need a heat lamp at night, even when daytime temperatures reach the 90s, she said. Some people only want bunnies when they are small, and try to return them to the store when they're grown, or aren't aware of how much food to buy, she said.
"We try to inform them the best we can but unfortunately a lot of customers buy it for the eye appeal, not necessarily the want or need," she said.
Cases of suspected dumping can be reported by calling 1-800-352-0700.