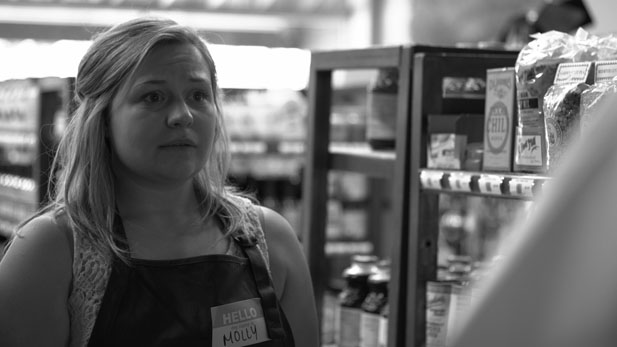 A scene from "Today is the Day", a contemporary silent movie with color and black & white sequences.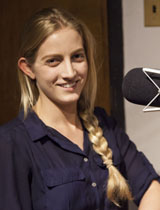 Megan Peterson, writer / director / producer of "Today is the Day" (PHOTO: Sandra Westdahl)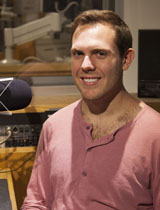 Wade Shields, writer / director / producer of "Slashed" (PHOTO: Sandra Westdahl)
The annual event I Dream In Widescreen returns to the Fox Tucson Theatre on Saturday, May 3rd. It's a one-evening film festival that features a diverse range of shorts produced by graduating Bachelor of Fine Arts students in the University of Arizona School Of Theater, Film & Television.
Mark McLemore talks with friends and filmmakers Megan Peterson and Wade Shields about the event, and the very individual films they each made…
Listen:
Nine student films, including Today is the Day by Megan Peterson and Slashed by Wade Shields, will be showcased in I Dream in Widescreen 2015 on Saturday, May 3rd at 7 pm at the Fox Tucson Theatre.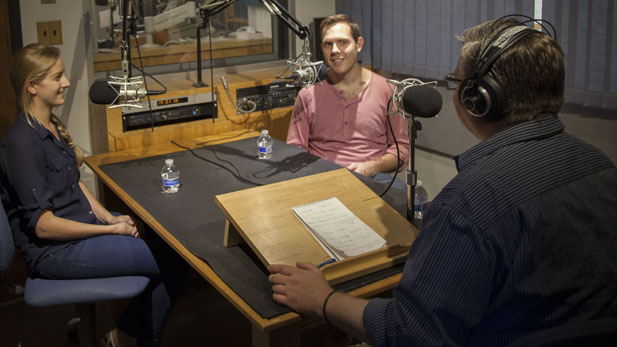 Megan Peterson and Wade Shields recording their Arizona Spotlight interviews.

Sandra Westdahl
Additional interview not heard on radio:
McLemore: (Question directed to Wade Shields, director of Slashed) Was part of your inclination for making this kind of film because you are a fan of horror films?
Shields: Yes, I definitely went through a phase where I would only watch horror films and then I grew out of that a little bit and decided to expand my film world.
McLemore: After having done this now, has that fueled the fire, or maybe cooled it, in terms of making more horror films?
Shields: I would say that this is more of a comedy than a horror film, and so it has fueled my energy toward making more comedy pieces, but that's not to say that I wouldn't love to make Abduction: The Musical as my next short!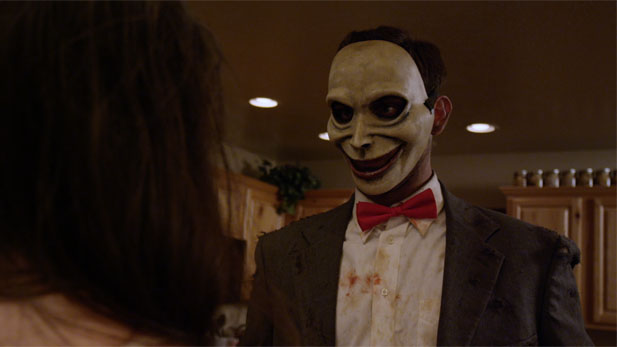 Filmmaker Wade Shields says "Slashed" is actually more comedy than horror.
McLemore: Do you have plans for your next project, Megan? (Peterson, director of Today is the Day)
Peterson: I would really love to make a musical. Me and Wade are both such musical nerds, we are always just singing lyrics from musicals, anything from Phantom of the Opera to Les Misérables, or what have you. I would love to take on a musical - and I have something in the works right now, but I am kind of keeping it secret until I have done further work on that.
McLemore: What do you think it is going to mean to be able to see the film in front of an audience? Are you looking forward to gauging that reaction?
Peterson: Absolutely. It's so nerve wracking because you don't know how the audience is going to react. Our class has all seen each others' films about fifty times now, so the reactions are very dull and everyone knows what to expect. They don't really care. But you don't know how the audience is going to react for the first time so I'm definitely hoping to hear some laughter, and some sighs of happiness or whatever - we will see.
McLemore: What about you, Wade? What are you looking forward to seeing it in front of a big crowd?
Shields: Like Megan said, I think just being with an audience who are seeing it for the first time as opposed to us who have seen it thousands of times and then the people in our class who have seen it many, many times and are no longer surprised by anything, no longer really that interested because they know everything that's coming up. So, I think just hearing reactions and if I can get people to laugh throughout my whole film then that will mean the world to me.
Audio transcription by Caitlin Dean