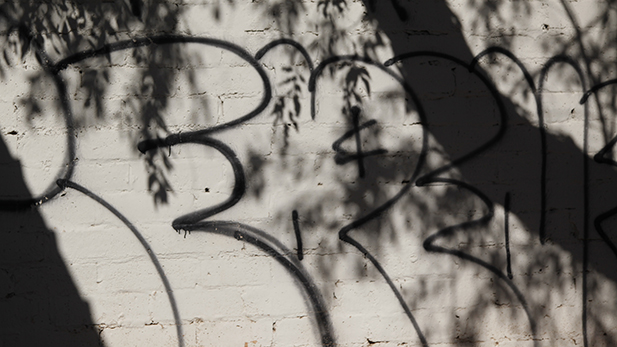 Graffiti is pictured in a neighborhood north of the University of Arizona campus on March 31, 2015.

Mariana Dale, AZPM
Listen
Vandalism at the historic Fox Tucson Theatre is an example of how graffiti has been and continues to be a problem in Tucson, police said.
Despite popular beliefs that gang members are tagging the streets "most of it is not gang related," said Sgt. Ryan Sachs of the Tucson Police Department.
It's males in their late teens and early 20s without ties to gangs, he said.
Sachs said there are no recent trends that show an increase or decrease in graffiti.
Homeowners and businesses are responsible for painting over their private property if it is vandalized with graffiti, Sachs said.
TPD asks that those who are victims of tagging take photos and document how much they paid for paint to repair the damage then enter a police report online.
"People are sometimes shocked that we're not sending an officer out," Sachs said. "Any type of hate crime or targeted graffiti, we ask that those be investigated by officers, but just random graffiti you can report it online and it'll all get uploaded into a database."
He said that database helps link one person's repeat offenses if caught.
Sachs could not comment on the Fox Theater investigation, but said the department has received "good tips," and asked anyone with information to call 88-CRIME.