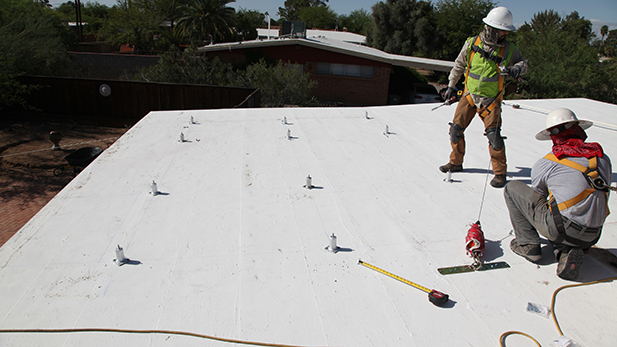 Zac Ziegler, AZPM
Part 3 of our special four-part series exploring the solar industry in Arizona
Listen:
Kevin Walters has been fascinated with solar for years.
"I moved here from Virginia almost exactly a year ago, and that was one of my goals was to go solar," said Walters. "I couldn't have it in Virginia because of the trees. I was torn between being a solar-lover and a tree hugger."
That's why Walters bought the five-kilowatt, twenty-four-panel array.
The speed of the install, cost and Walter's decision are part of a booming residential solar industry in Arizona.
Stepping up solar install
First the crew located the roof's rafters and drilled the attachments for the panels into them.
The subsequent steps moved pretty quickly after that.
"Waterproofing the attachments, building the racks for the arrays, and then mounting the modules," Worker Steve Johnson listed the next phase.
After one day, the crew on Walters' roof is nearly done with the job– that's progress.
"When I first started doing it, it would take a week or two to install a three-kilowatt system," said Technicians for Sustainability President Kevin Koch, who got his start 20 years ago.
Today, that could be installed in a day. An average seven-kilowatt system is probably a two-day installation.
The speed of that install is helping change the solar business.
"A typical Tucson family usually installs a seven kilowatt system, and a seven kilowatt system would save about $120 a month off a current electric bill," said Koch.
Efficiencies in installation and equipment have helped solar prices drop by more than half in the past 10 years. The price drop is now starting to level off in recent years.
"Last year I believe we saw close to 3,000 installations," said Koch, referring to Tucson. "And I think we're on track this year to see similar numbers."
In past years, the metro area had about 1,000 new installations a year.
Rush before rates rise
"The most recent impact has been the effects of the net metering tariff that [Tucson Electric Power] and other utilities have filed," said Koch. "That's really driving people to want to get solar before it's too late."
TEP has asked that its net metering, what utilities pay for excess electricity generation, be lowered to the same amount the utility pays to utility-scale solar producers.
Other companies in the state, such as Arizona Public Service, have asked that their grid access fee, what they charge for users to be connected to the electrical grid, be increased.
The federal Solar Investment Tax Credit expires in 2016. That law allows for a 30 percent tax credit on the price of a residential or commercial solar installation.
Arizona's tax credit, which covers 25 percent up to $1,000, expires at the end of 2020.
Any reduction in solar incentives could change the length of time it take to pay off a rooftop solar array, meaning a lessening of the financial incentive to buy or lease a system.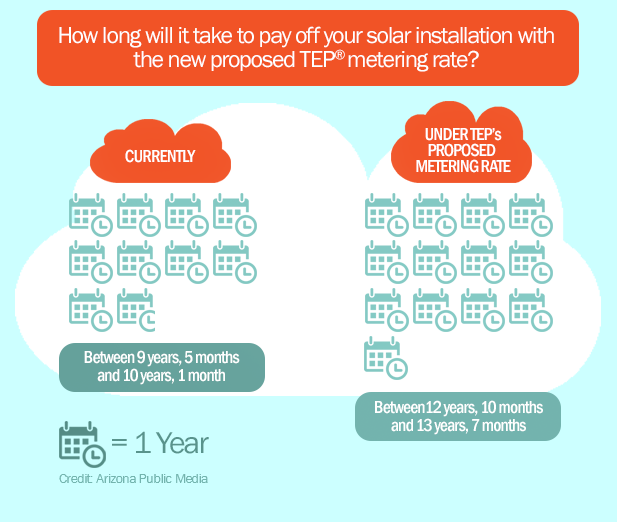 "We're in an industry that's driven by policy decisions," said Koch. "To the extent those policy decisions end up favorable to solar, we'll I think, continue to see strong adoption."
Kevin Walters made sure his solar system was installed before any possible rate change could go into effect.
That means he gets to take advantage of the financial bonus along with getting a feeling that he's helping the environment.
"I'm very gratified especially living in Arizona, to be utilizing the sun," said Walters, after his solar panels were installed. "It's like a settling, like I'm really here, I'm really an Arizonan."

For more coverage on the solar industry in Arizona,
click here
.