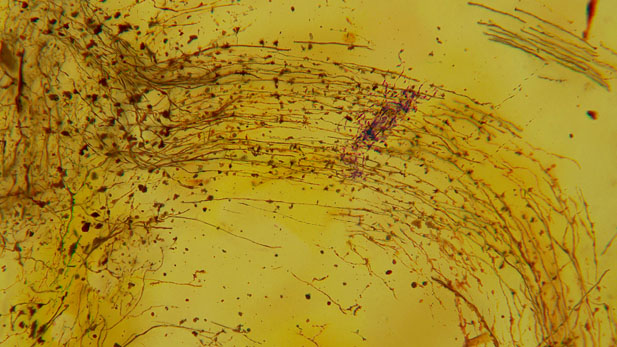 Brain cells of the Caribbean hermit crab (Coenobita clypeatus), stained with a reduced silver method called Golgi impregnation.
The human brain is an advanced piece of hardware. What about the brains of creatures that accomplish amazing results with significantly less to work with?
Do you always know where to find the foods you like to eat, or the quickest way to get back home?

Human beings have a lot of ways to answer those questions even if we aren't sure. For animals, memorizing such information is vital to survival.
Gabriella Wolff
Until recently, not much was known about how the brains of invertebrate animals worked.
In the University of Arizona neurosciences laboratory of MacArthur Fellow Nicholas Strausfeld, experiments about brains function are being conducted. Fifth-year graduate student Gabriella Wolff is one of Strausfeld's key researchers.
Wolff studies the proteins the brain uses to learn and remember, and compares the size and shape of neurons across species, looking for commonalities. I asked her about some of her preferred lab animals to work with...

Listen:
In the spring of 2015, Gabriella Wolff completed her thesis and graduated from the University of Arizona.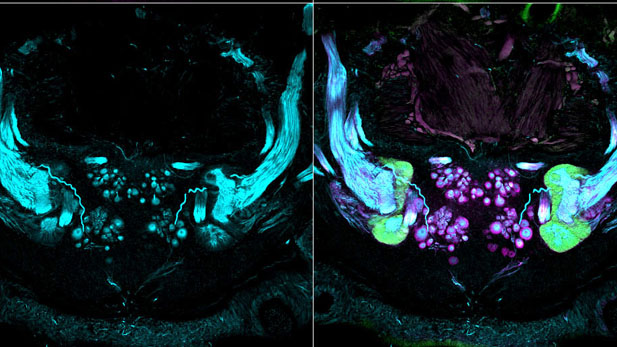 Cross section of nerve bundles entering the brain of a sand worm (Nereis virens), stained with fluorescent dyes (three colors merged on right).