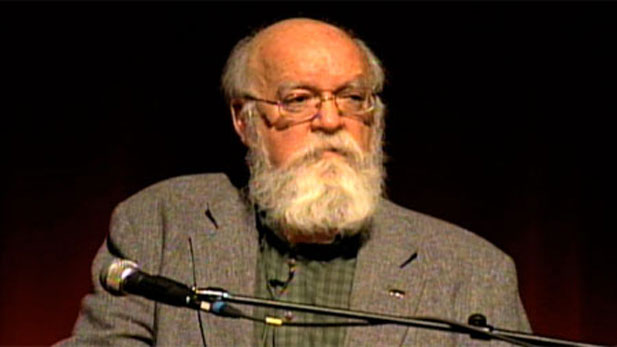 Daniel Dennett, Austin B. Fletcher Professor of Philosophy, Tufts University
Tuesday, February 17 - Next: Darwin's Strange Inversion of Reasoning
Daniel Dennett, Austin B. Fletcher Professor of Philosophy, Tufts University
Until Charles Darwin's Origin of Species it was assumed that life forms were built to a pre-existing plan. When Darwin showed that small inherited modifications – shaped by survival – sufficed to shape life on Earth, he was greeted by criticism for his "strange inversion of reasoning". A century later, Alan Turing added his own strange inversion: "in order to be a perfect and beautiful computer, it is not requisite to know what arithmetic is." Today, we can for the first time observe and understand Darwin's reasoning – as the trillions of tiny robotic agencies called cells, that know nothing of the role they are playing, work together to compose the human minds that are able to discover this very fact.
University of Arizona College of Science NEXT: SCIENCE THAT TRANSFORMS lectures
Tuesday, March 3 -Next: Visualizing Human Thought
Elena Plante, Professor and Head of Speech, Language and Hearing Sciences
The ability of the human brain to think and communicate one's thoughts is fundamental to our experience. For centuries, our ability to understand how human thought is represented and communicated had to be inferred from observing behavior following brain damage. The recent advent of new tools for noninvasive study of the normal brain has revolutionized our understanding of brain function, allowing us for the first time to visualize human thought. And we are only just beginning.
Tuesday, March 10 - Next: Really Intelligent Computers
Paul Cohen, Professor and Head of Computer Science
Halfway through its first century, artificial intelligence has delivered some astonishing successes on narrowly defined tasks: cars that drive themselves, airline reservation systems you can talk to, search engines for the Web. Yet these accomplishments have failed to match the general, flexible, adaptive mind of a two-year-old child. By understanding the differences between childlike and computer intelligence, we set the stage for the development of really intelligent computers.