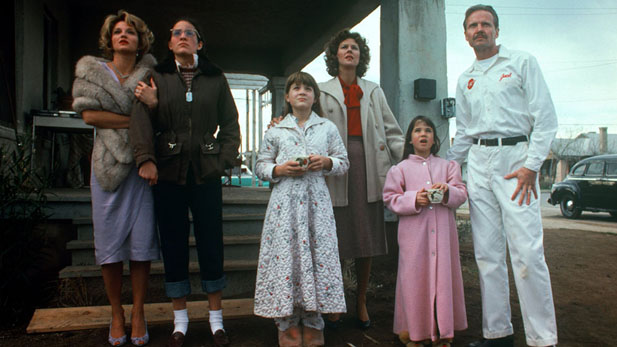 The cast of "Desert Bloom" (1986), a film largely shot in Tucson.
A little-talked about movie from the mid-80s recently caught Chris Dashiell's attention. Although he found a lot to like about the performances and the story, it was the backdrop of the movie almost stole the show. Here is Chris Dashiell to explain why...

Listen:
On some rare occasions, I experience a double enjoyment from a movie, if, number one, it's a good film, and, number two, if it was made in my home town. The movie I have in mind is called Desert Bloom, and it was shot here in Tucson about thirty years ago, during the winter of 1984-85, and released in '86. An independent film funded by the Sundance Institute and directed by Eugene Corr, Desert Bloom didn't make a big splash at the box office, but it's a very rewarding experience.
It's about a family living in Las Vegas in 1951, before the boom that turned the city into a gambling Mecca. 13-year-old Rose Chismore, played by Annabeth Gish, lives in a bungalow with her mother and two younger sisters. Her stepfather, Jack, played by Jon Voight, runs a little gas station on the outskirts of town. He's a World War II vet, with a bad leg, who suffers traumatic flashbacks from his combat experiences. He's also a braggart and an alcoholic, who vents his rage on his wife, played by Jobeth Williams, and his stepdaughters, especially Rose, whom he mistreats despite her many attempts to get him to love and approve of her. The sufferings and occasional joys of this family plays out against the background of the Red Scare and the arms race, the Korean war, and regular air raid drills at school where the kids are taught to "duck and cover." The increasingly paranoid Jack, drinking vodka and listening to his short wave radio, thinks that something big is up, and he turns out to be right: the government announces plans to conduct nuclear tests in the desert, about sixty miles from Las Vegas.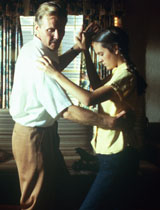 Rose (Annabeth Gish) learns to dance from her stepfather Jack (Jon Voight) in "Desert Bloom"
There are a lot of different elements in this coming-of-age story, some of which verge on stereotype, such as the arrival of a beautiful and promiscuous aunt, played by Ellen Barkin, who acts as a freeing influence on her young niece. But the film, overall, is quite moving. The parallels between the repression and denial of early 1950s America, and the same forces on a smaller scale within the family, have a poignant effect. Jon Voight, in the thankless role of the stepfather, who could have easily come off as just a monster, imbues his character with a palpable mixture of frustration, weakness, and bumbling good intentions. He just nails this part –you can't take your eyes off of him. Most importantly, however, the director, after interviewing over 500 girls, picked Annabeth Gish to play Rose. A thirteen-year-old unknown, who had never acted in a film before, and playing a part that requires her to be in almost every scene, essentially having to carry the movie, Gish is terrific—touching and vulnerable, and holding her own with tremendous poise throughout the picture. Thanks to her performance, Rose's growing pains come to symbolize something greater, evoked in the haunting final scene where she watches the atomic mushroom cloud blossoming on the horizon.
And now for the second part of the double pleasure I mentioned. Desert Bloom was shot in Tucson. On a big empty lot south of Broadway, near 3rd Avenue and 16th Street, the filmmakers put up a house and a trailer park, and in another section near the railroad tracks, they put the gas station. (There's a story that someone was fooled by the realistic looking trailer park and approached the set to ask how much it would cost to rent there.) As Rose and her friends walk to and from school, you may notice many old houses in that neighborhood, and in one prominent shot, looking south on 4th Avenue from 16th St., you can clearly see the "A" on A mountain in the distance. The school that Rose attends, with its Mission style arches, is in fact the University Heights school on Park Avenue, just a little north of Speedway, which is now an apartment complex.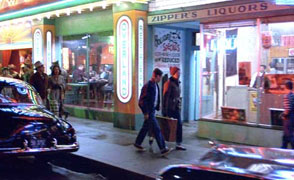 An example of how a portion of West Congress Street in downtown Tucson was used to represent part of 1950s Las Vegas in "Desert Bloom" (1986).
The filmmakers also took over a block on Congress Street for a few weeks, if you can imagine, from the Rialto Theater west to 5th Avenue, and decorated it with kitschy 1950s signs and décor to make it look like the Las Vegas strip in 1951, shooting scenes there at night when the businesses were closed. You can see the Rialto marquee off to the left, and reflected in a big shop window as Rose walks down the street early on, is the unmistakable architecture of the Congress Hotel.
This may seem odd to some people, but I find such details very affecting—especially in this case because Tucson is standing in for a completely different place at a remote time. So to see these familiar details, in locations through which I've walked or driven on countless occasions, employed to evoke a vivid fictional dream, is like peeking behind the curtain at a magic show and seeing how the tricks are performed. The preservation of life's images on film, a miracle we've come to take for granted, coincides here with a sense of the irretrievable passage of time in real life, here in our real home town.
For Arizona Spotlight, this is Chris Dashiell.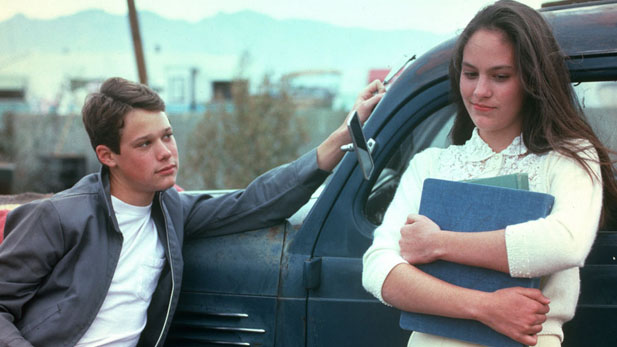 Jay Underwood and Annabeth Gish as 1950s teens in "Desert Bloom" (1986)
Who is Chris Dashiell?: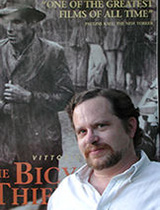 Film reviewer Chris Dashiell
Chris Dashiell has been writing about movies for seventeen years, serving as the editor of the online film lovers' guide Cinescene for ten of them. He currently reviews films for Flicks, a weekly program on Tucson's community radio station KXCI, and he confesses to shamelessly idolizing Carl Dreyer, Jean Renoir, and Luchino Visconti.