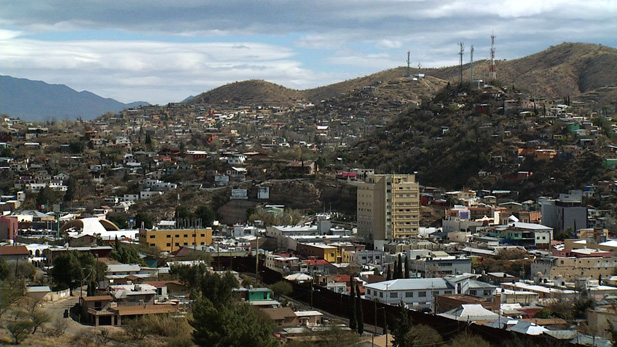 A view of Nogales, Ariz. and Nogales, Mexico.

AZPM Staff
Listen:
By Kate Sheehy, Fronteras Desk
A federal judge ruled Friday that a U.S. Border Patrol agent can be sued for the shooting death of a Mexican teen.
U.S. District Judge Raner Collins ruled that Jose Antonio Elena Rodriguez had civil rights protection under the 4th amendment. Border Patrol agent Lonnie Swartz was in Nogales, Ariz., when he shot Rodriguez on the other side of the border fence in 2012.
Lee Gelernt, a lawyer with the ACLU, argued the case for Rodriguez's family, and he said if the judge had ruled differently, it would have essentially set up a constitution-free zone, "where a border agent standing on U.S. soil could simply fire at Mexican citizens on the other side of the fence, and there would be no constitutional retribution."
Shawn Moran of the National Border Patrol Council said the ruling will cause agents to hesitate taking action.
"And that is a very dangerous situation," Moran said. "Border Patrol agents need to be able to defend themselves against assaults, even when they're occurring from Mexico."
The Border Patrol said Rodriguez was part of a group throwing rocks at agents. His family and others said he was not involved and was moving away from the fence when shot.
In a similar case in Texas, a federal appeals court ruled the family of another Mexican teen shot by a federal agent could not sue.