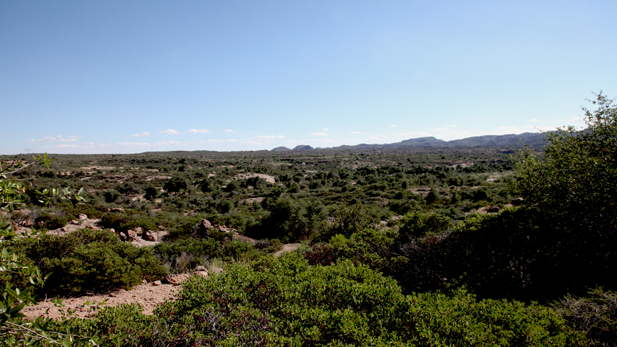 Oak Flat, in the Tonto National Forest east of Superior. Resolution Copper Mining has proposed building a large underground copper mine at the site.

Mark Duggan
Listen:
The Oak Flat Campround in the Tonto National Forest is a spot where people go to be in the Great Outdoors; where climbers scale rock faces; where members of the nearby San Carlos Apache tribe perform coming of age ceremonies.
It also sits on top of one of the largest copper deposits in the world. For years the Anglo-Australian mining giants Rio Tinto and BHP Billiton through their subsidiary company Resolution Copper Mining have been working on a plan to drill 7,000 feet down into the ground to extract that rich resource.
For a while it seem somewhat stalled. Oak Flat is, after all, publicly held land that has been protected since the 1950s.
Resolution Mining's efforts to convince lawmakers to grant rights to that land had been unfruitful - until last December. The National Defense Authorization Act included a rider that authorized a land swap: the mining company would hand over 5,300 acres of land to the US Forest Service and receive in exchange about 2,400 acres of public land - including Oak Flat.
That move galvanized opponents from the San Carlos Apache tribe and people from the broader community. They organized an occupation of Oak Flat, rallies around the state and have been on an awareness-raising caravan across the country that arrives in Washington DC Tuesday July 21.
16 year-old Naelyn Pike was in one of the nine cars that made the cross-country trek.
"When I'm at Oak Flat, I feel free," Pike, a member of the San Carlos Apache tribe, said. "When I'm at Oak Flat I'm connecting with the elements and the spiritualness that it gives, that sacredness that it gives."
Representatives from the mining company say the reports of imminent doom and destruction for Oak Flat are overblown, and in fact the land exchange deal requires the company to grant ongoing access to site
"...for traditional purposes and for recreational purposes. And we're obliged to do that and we're happy to do that whilst ever it's safe to do so," said Andrew Taplin, project director for the Resolution Cooper project.
Taplin said the mine's benefits far outweigh the costs.
"Directly we'll be employing 2,400 employees is the current estimate," he said.
And in terms of money:
" Our current estimate is that we'll generate about $61 billion of economic benefit locally, regionally, and for the state of Arizona," he said.
That's about twice as much as the Super Bowl generated, every year for the next 50 to 60 years.
But what about those costs?
The full environmental impact– on the landscape, wildlife, water – isn't yet know. Taplin said Resolution expects to start a required environmental assessment sometime in 2015 – and that could take up to five years.
For Nealyn Pike though, this is not a question of money or employment. It's one of survival. The drilling method that Resolution plans to use, she said, will completely destroy Oak Flat.
"If Oak Flat is gone, that means that destroying of all of that sacredness would happen," Pike said. "For the Apache people that is that is the beginning of the end because it's the place where we go to pray, the place where we can be who we are – and if that place is gone, we're nothing. "
Taplin doesn't see it that way.
"We believe that we can respectfully develop the project and respect culture. Respect religion and have a project that generates economic benefits that we can share with neighboring communities," he said.
Not all of the San Carlos tribe opposes the project.
Kathleen Kitcheyan is one of the what she calls a silent majority of the tribe that wants to see Resolution built because of the jobs and opportunities she thinks it will bring to her community. And she said claims of Oak Flat's sacredness are exaggerated.
"I have been raised by very traditional parents and they have never told me or my siblings that Oak Flats is sacred," she said.
What's next for Oak Flat and Resolution Copper?
Naelyn Pike and other opponents are in DC this week and meeting with lawmakers in order to drum up support for a piece of legislation that Democrat representative Raul Grijalva introduced recently. It would overturn the land exchange and keep Oak Flat both public and protected from mining.
And in the meantime, plans for the Resolution Copper Mine will proceed – as will efforts to stop it.