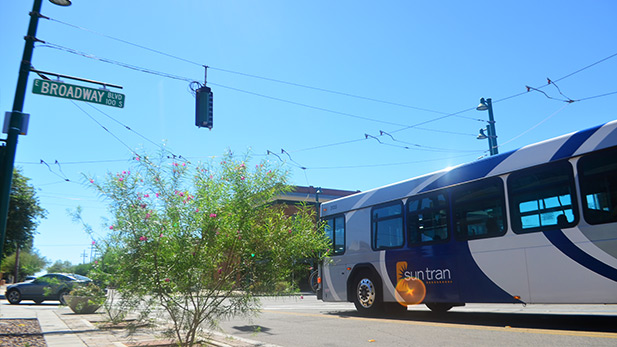 (PHOTO: Maria Inés Taracena, AZPM)
This story will be updated throughout the day. Last update, 1:31 p.m.
Nearly 50,000 Tucson commuters were stranded Thursday when Teamsters Union drivers and mechanics called a strike against the city's Sun Tran bus system.
Sun Tran officials said they would operate buses on five of the metro area's busiest routes using managers as drivers. More would be added when possible, said Kandi Young, Sun Tran spokeswoman.
The bus system made its "firm and final offer," but it was rejected, a Sun Tran press release said. The Teamsters Union Local 104 vote was 98 percent against the contract, said Andy Marshall, the union's principal officer.
"Until Sun Tran either makes another offer or comes back to the table, we will be out on strike, for as long as it takes," he said.
He said 530 drivers, mechanics and bus station workers were on strike, and picketing at Ronstadt Transit Center and the northwest side maintenance facility. He said because the offer included no pay increase for current workers for the next three years, it is unacceptable.
"We're willing to talk, period," said Andy Marshall, the union's principal officer. "The ball is in the court of management."
Also in contention are driver safety and mold issues at the northwest facility, he said.
Sun Tran brought up those issues during the negotiation, but the parties were unable to come to a conclusion the union accepted, Young said.
Sun Tran General Manager Kate Riley said in a press release that management had made what she considered to be a good offer.
"I'm disappointed that we couldn't come to an agreement," Riley was quoted as saying. "We believe the offer we had on the table was a fair offer, and we're available to continue talking to the negotiating committee should they choose."
Sun Tran announced that limited service would be available from 6 a.m. to 6 p.m. on:
6th Street's Route 3
Broadway's Route 8
Alvernon Way's Route 11
Oracle Road's Route 16
South 6th Avenue's Route 18
The company is using administrators who are not covered by the union, and who are former drivers, to offer limited continued service, Young said. If more drivers are available the company will broaden the routes offered during the strike, but Young said she could not comment on whether temporary workers will be hired during the strike.
Drivers are paid an average of $16.72 an hour with nearly half at the top pay of $19.22, Sun Tran said in a statement.
It said its offer was for continuation of all benefits, including fully paid pension contributions and health insurance, addition of an 11th holiday each year and a 3.3 percent increase in starting pay for drivers, to $13.80 an hour.
Union members voted Saturday by a margin of 363-4 to reject the proposal. Marshall said Sun Tran managers acknowledged returning $2.2 million to the city's general fund in 2013 and 2014, money he said could have gone for raises.
"We tried everything possible, including working with a federal mediator in the last two days," Marshall said. "We sympathize with the 50,000 citizens who ride the bus, and we ask them to look at the situation and ask why money was given back."
The strike does not affect the streetcar, Sun Van service for the disabled and elderly or Sun Shuttle.
Transportation alternatives
The strike has left some scrambling for alternative transportation options. Tucson Unified School District has its drivers doubling up on routes to cover the students who normally ride Sun Tran buses to school, said Stephanie Boe, the district's spokeswoman.
"It's a little bit earlier than their normal Sun Tran bus routes, the schools were seeing the kiddos arriving at 6:45 this morning," Boe said. "It's an early wake-up call for our high schoolers, but it's the very best that we could do under these circumstances."
The district will continue to accommodate its Sun Tran riders, she said, but it will come at a cost.
"We're prepared to do what we need to do as long as it needs to be done. It's costing the district about $2,000 a day to do this," she said.