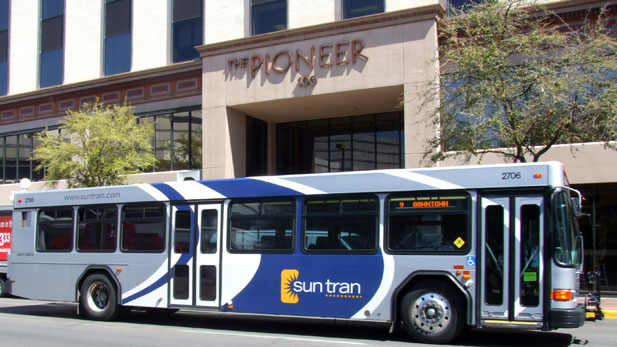 Tucson's municipal bus system operated eight of its 43 routes Tuesday as a drivers' and mechanics' strike neared the one-week mark.
Sun Tran ran buses on its busiest routes using managers as drivers. All of the system's 13 express routes, those carrying passengers to and from distant spots in the metropolitan area, remained shut down.
Teamsters Union Local 104 struck the bus system last Wednesday after talks stalled over issues of wages and working conditions. No talks have been held since before the 530 workers went on strike.
The bus system normally carries passengers on 66,000 trips a day during the week.
The head of the union has said workers want raises, solutions to mold problems at the Tohono bus station on Tucson's north side and safeguards to protect drivers from passenger assaults.
Sun Tran officials have called management's offer fair and said they have been working with the union and the city on the mold and driver safety issues.
The offer is for continued company-paid pensions and health insurance and an 11th paid holiday each year. New drivers would start at $13.80 an hour, up from $13.30, but no increase was offered for current drivers or mechanics.
The union filed an unfair labor practices charge against Sun Tran management last week with the National Labor Relations Board, saying management is negotiating in bad faith. The claim is based on a Teamsters audit that the union said showed Professional Transit Management returned $2.2 million to the city in 2013 and 2014, while telling the union it had no money for raises.
Sun Tran officials have said they are responsible for running the system as efficiently as possible.