Listen: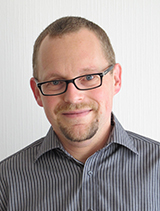 University of Arizona Psychology Associate Professor Matthias Mehl (PHOTO: Courtesy of Matthias Mehl)
What can you learn by listening to the sounds of a person's day? Matthias Mehl, a University of Arizona psychology professor, has spent almost 20 years decoding what candid moments of daily life can teach us.
"It's trickier to get behavior that participants simply may not notice. For example, whether you sigh or have a subtle laugh or use particular words more than others... Those were the behaviors that we were interested in because we know the subtle behaviors can really, potentially have a big effect on psychology."
He helped pioneer a research method called the EAR, electronically activated recorder, to sample audio from his subjects' days.
"It was really a landscape of uncharted territory that opened up in front of us because nobody had really looked at the psychological implications of these naturalistically observed daily behaviors," Mehl said.
The EAR has given researchers an intimate picture of couples dealing with cancer, college students and those coping with trauma.
Matthias Mehl will discuss his research in a lecture on Sept. 11 at 3 p.m. in room 306 of the Psychology building on the University of Arizona campus.