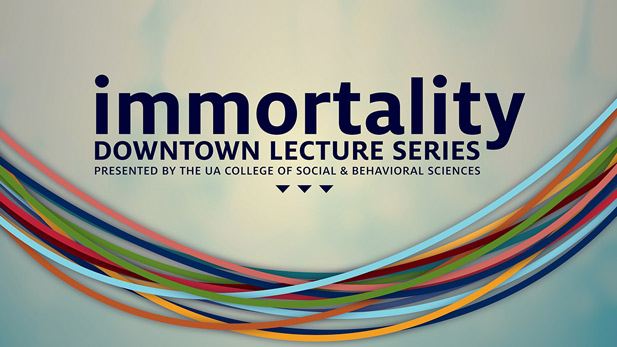 This year's Downtown Lecture Series begins October 14th at 6:30 p.m.

UA College of Social & Behavioral Sciences
Every Wednesday at 6:30 p.m. Beginning October 14th
See it in person free at the Fox Theatre or watch it online here on azpm.org
Last year the University of Arizona's College of Social and Behavioral Sciences presented its 2nd annual Downtown Lecture Series focusing on "food." The immensely popular series returns this fall spotlighting "immortality," as UA faculty investigate how our beliefs about life beyond death shape the human experience. The lectures take place at 6:30 p.m. every Wednesday evening beginning October 14th at the Fox Tucson Theatre. Tickets are free and these lectures are open to the public. Click here for ticket information.
Arizona Public Media will also livestream all five lectures for free here on azpm.org.
The series consists of five lectures by UA faculty members:
The Histories and Mysteries of Heaven Wednesday, October 14, 2015 - 6:30pm to 7:30pm J. Edward Wright
Love and Death in the Stone Age Wednesday, October 21, 2015 - 6:30pm to 7:30pm Mary C. Stiner
The Dark Immortality of the Vampire Wednesday, October 28, 2015 - 6:30pm to 7:30pm Jerrold Hogle
Two Ancient Philosophies on Why Death is No Evil Wednesday, November 4, 2015 - 6:30pm to 7:30pm Rachana Kamtekar
The Elusive Self in Life and Death Wednesday, November 11, 2015 - 6:30pm to 7:30pm Shaun Nichols
Learn more about the 'Immortality' series and its speakers and the Downtown Lecture Series.
Can't make it downtown to watch the lecture in person? AZPM will livestream all five lectures here, with the first lecture airing at 6:30 p.m. on October 14th. Mark your calendars!