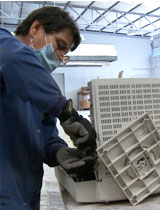 A group of women in Mexico is trying to improve the town's economic situation by taking part in a bi-national effort to recycle television sets, computers and other electronics and the digital transition in the United States is working in their favor.
The women live in the small community of Fronteras in the state of Sonora, south of Douglas, Arizona. The women formed a cooperative to achieve their goals and they have been so persistent and driven that they have been nicknamed in Spanish as "Las Chicas Bravas" or the "The Tough Women." Tony Paniagua speaks with two of them as well as a couple of assistant volunteers and the president of a Vermont company that is a vital link in the recycling efforts.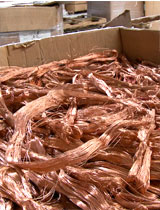 Tucson Clean and Beautiful recently was there to take a look at the operation and TVs collected in Arizona will be going to Fronteras, where they will be sold if in good condition in Mexico, or else be disassembled for materials like copper and lead.
The digital transition in the United States means that thousands of analog televisions will be replaced and since Mexico is not going digital, the market for them is much better.
Watch Video of the Story: