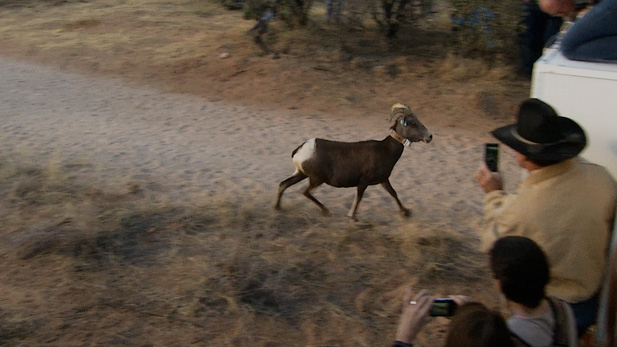 Listen:
The Arizona Game and Fish Department is proceeding with a planned relocation of bighorn sheep to the Santa Catalina Mountains north of Tucson.
A recent outbreak of pneumonia in the herd already there had threatened to delay what will be the third release of sheep under the department's program to re-establish a bighorn sheep population in the area.
Pneumonia was confirmed as the cause of death for four sheep in the herd, and it is suspected in the death of another.
"The presence of pneumonia in the Catalina bighorn sheep population, I don't want to overplay or underplay," said Mark Hart, a public information officer with the Arizona Game and Fish Department. "It's a problem among bighorn populations throughout the west but it's not necessarily a devastating problem."
Hart said the sheep that will be relocated next month have been previously exposed to the illness and are therefore resistant to it.
The department plans to capture up to 30 sheep from a population near Yuma and release them in the Catalinas during the third week of November.
They will join the current herd that includes 35 collared sheep and an additional six lambs.