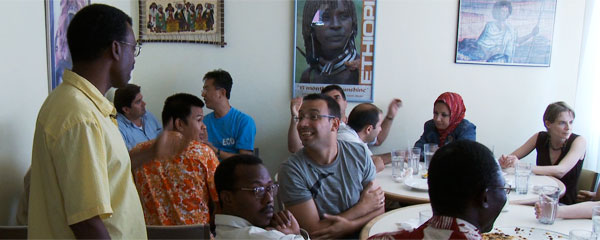 "When you come into Zemam's you are now in Ethiopia." This is what Amanuel Gebremariam told us recently when we visited him in the kitchen of his restaurant. Zemam's Ethiopian Cuisine has occupied the same inconspicuous location on East Broadway since 1993, and for Gebremariam keeping it real means that he and his staff are busy long before the first customers arrive at lunch.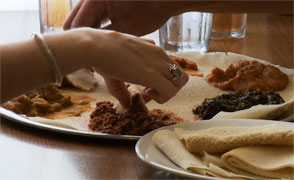 Injera is the soft spongy flatbread that is used to scoop up the delicately spiced stews that make up the menu. The bread is made from a naturally fermented batter, and each morning the team at Zemam's have to produce more than a thousand of the large tortilla-shaped delicacies for use throughout the day. It's a process that takes place in a carefully orchestrated assembly line, while the savory stews simmer slowly nearby. "This food is meant to be shared," Gebremariam explains to newcomers, "and it's OK to try what someone else has ordered."

Not only is it OK to share, but also it's expected in this communal dining tradition. In fact this is probably one of the best things about Zeman's because a dining experience with friends and family allows everyone to sample more of the items on the menu.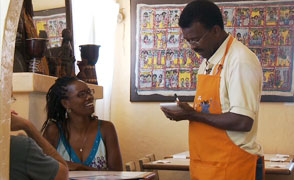 Amanual Gebremariam came to the United States as a refugee from the conflict and strife that has afflicted his native Ethiopia. After graduating from the University of Maryland and then obtaining his graduate degree from the University of Arizona he worked as a diplomat. Although his work in building international relationships was gratifying, he says he has found his true calling in strengthening relationships over meals. Zemam's is named after his Mother, who he says taught him how to cook from a very young age, and her picture sits prominently at the restaurant, reminding him and everyone else that this food is the real deal.

(Story by Luis Carrión)