Sculptor Steve Eye has been anxious all morning, waiting to hear what structural engineer Steve Hass has to say. The report could change the space that Eye's been using for the past 20 years. Eye received an abatement order last month from the Tucson Fire Department. It gives him 60 days to fix various problems, otherwise he'll have to vacate the building.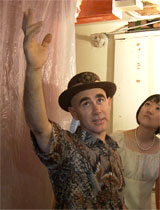 After spending several thousand dollars on improvements, Eye finally got the good news he'd been waiting for. What's unusual about this is that Eye doesn't even own this building. The landlord, the Arizona Department of Transportation made a deal with Eye two decades ago; low rent but the tenant was responsible for maintenance and repairs, with a 30-day-lease termination clause.
Steve Eye's story is identical to hundreds of artists in the warehouse arts district along the railroad tracks in downtown Tucson. Affordable leases with large spaces have attracted many of them to this area since the 80s, helping to create a vibrant arts district. David Aguirre, artist and longtime warehouse manager has spent 20 years in the historic Steinfeld warehouse. Later ADOT bought many of the warehouse buildings to demolish them in order to build a highway adjacent to the railroad.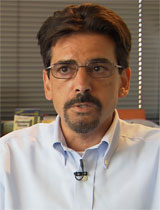 Andrew Singlelakis, the deputy director of Tucson's Department of Transportation, says the highway never made it this far. With the highway plan on hold, the state made the warehouse buildings temporarily available to artists at very low rates. But the lack of long-term leases and the high cost of repairing century-old buildings has hindered further development of the district. In fact, one building was demolished in 2006 due to safety concerns.
Later, the tenants at the Steinfeld warehouse and Zee's Mineral gallery were forced to move out for the same reason. The owner of the Zee gallery wanted to buy the property to save the building but he couldn't.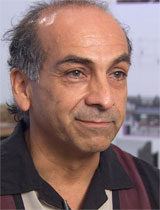 Would it be easier for the city to own these properties in order to develop the area? Well, that might happen next month. David Aguirre is excited but he remains concerned. The building where Steve Eye is working is not presently under consideration for transfer to the city this August, so in the meantime he hopes to continue contributing to a unique arts scene in this historic setting.
City of Tucson
City of Tucson Department of Transportation
Dinnerware Gallery