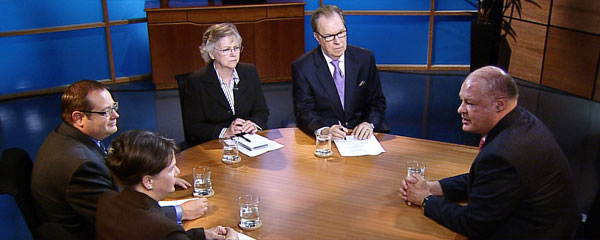 (Counter-clockwise from right) Tom Horne, Bill Buckmaster, Ann Brown, Jim Nintzel and Linda Valdez.
Arizona State Superintendent of Public Instruction Tom Horne answers questions from the Friday Roundtable panel. Topics include how inaction on the state budget is affecting education, Horne's concerns over President Obama's address to students next week and the latest on how Arizona's education stacks up against other states.
Joining Bill Buckmaster on the panel this week are Ann Brown of the Arizona Daily Star, Jim Nintzel of the Tucson Weekly and Linda Valdez of the Arizona Republic.
Topics include:
The latest on the state budget. Tax collections down again for 18th straight month

GAO report on border checkpoints
Rialto dispute apparently is over
City of Tucson election – only 746 voters decide GOP primary in Ward 5

Pima County considers bond election in 2010 (probably sound bite from my interview tonight with Richard Elias)

Phoenix is trying to improve its tarnished image