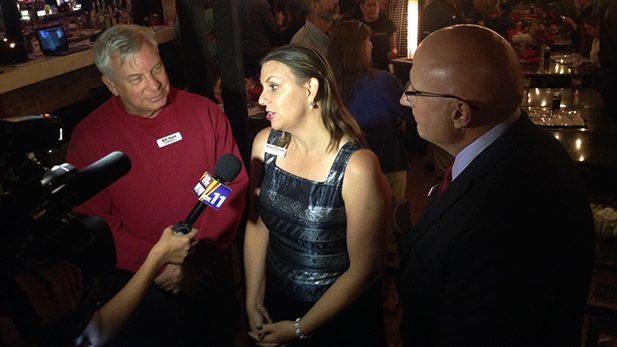 Republican Tucson City Council candidates Bill Hunt, left, Margaret Burkholder, center, and Kelly Lawton, right.

Andrea Kelly, AZPM
A Pima County Superior Court judge Monday dismissed a lawsuit by two Republicans challenging the outcome of last month's City Council election.
Judge Gus Aragón said in his ruling that Republicans Kelly Lawton and Margaret Burkholder filed their case too late.
The lawsuit challenged the election outcome based on a 9th U.S. Circuit Court of Appeals decision striking down Tucson's election system as unconstitutional. The court said it violates the one-person, one-vote rule under the 14th Amendment.
That ruling came one week after the election in which Lawton lost the City Council Ward 2 race to incumbent Paul Cunningham and Burkholder lost the Ward 4 race to incumbent Shirley Scott.
Cunningham and Scott were sworn in Monday for new terms hours before Aragón dismissed the Republicans' lawsuit.
The suit named Cunningham, Scott, Mayor Jonathan Rothschild and the other four members of the all-Democratic City Council as defendants, claiming they ran an unconstitutional "hybrid" election system. Under it, primary candidates are selected by ward-only voting and general election candidates are voted on city-wide.
In the general election, Lawton and Cunningham had more votes in their respective wards than their Democratic opponents. But the Democrats had more votes city-wide, making them the winners under the current system.
The defendants "have shown reliance upon the hybrid system under which they campaigned," Aragón wrote in his ruling. "The court finds as well that the city of Tucson relied upon existing law at time of the challenged election."
The judge said he was dismissing the lawsuit "on the basis of laches." Laches is a legal term referring to an unreasonable delay pursuing a right or claim.
Five members of the City Council, minus Cunningham and Scott, voted last month to appeal the circuit court ruling.
Read the court's decision here

View at Google Docs

|

Download File