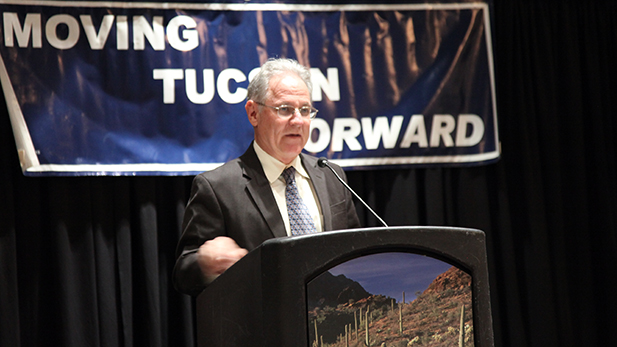 Tucson Mayor Jonathan Rothschild speaks at his second inauguration ceremony, December 2015.

Andrea Kelly, AZPM
Listen:
Three Tucson City Council members and the mayor begin their next terms in office Monday amid word of a hiring freeze and other budget cuts.
The four Democrats were re-elected to another four-year term in November. On Friday, the city manager announced a series of moves meant to close a $42 million budget deficit in July.
The money-saving moves City Manager Michael Ortega recommended began today. they include: a hiring freeze, retirement incentives to reduce the workforce, laying off employees still on probation and changes to the city's health benefits. Those moves would save about $37 million.
In his inauguration speech, Mayor Jonathan Rothschild said the city must find additional sources of revenue, meaning taxes.
"The simple fact is we cannot continue to meet our existing obligations or maintain our existing service levels without looking at all options for increasing revenue," Rothschild said.
Councilman Paul Cunningham began his second full term in office today. He said in his speech that the city has a lot of potential, and he doesn't want to hear "we'll see" when he asks for improvements, or when city residents ask for needed services.
That, he said, is what you tell your children when you really mean the answer to their question is no.
"I don't want to be the city of 'I don't know, we'll see.' The city that we want is the city of 'yes, and this is what else is possible,'" Cunningham said.
He outlined five goals he has for the city:
- create 3,000 aerospace jobs in the next 10 years
- develop a "homegrown" airline that would have direct service to 8 to 10 cities
- recruit a telecommunications company to house its headquarters in Tucson
- become a two-university town in the next ten years
- continue efforts to lead the country in water conservation efforts
Councilwoman Regina Romero outlined the ways in which the re-election of the same city council would not lead to a "status quo" panel of city leaders.
"Tucson did not vote for the status quo," she said, listing accomplishments from her previous two terms in office. She cited her role is one of very few Latina elected officials in the country and progress in downtown Tucson redevelopment efforts.
Councilwoman Shirley Scott also listed the accomplishments of her previous five terms on the City Council.
They included work on water availability, solar installations, preserving the Fantasy Island mountain bike trails, graffiti abatement and other improvements. She also reminded the rest of the city that the southeast-side Ward 4 is not a different community from the core of Tucson.
"We are not far - we are your neighbors," Scott said.
The other three members of the council will be up for reelection in 2017. They are Steve Kozachik, Richard Fimbres and Karin Uhlich.