Story by Tony Paniagua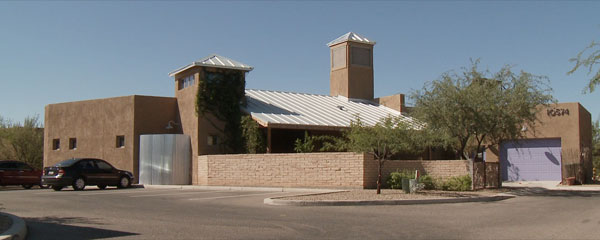 Imagine building your own house as part of your education at a university. That's what happened when Richard Michal moved to Tucson a few years ago to pursue his bachelor's and master's degrees in architecture at the University of Arizona. He was very impressed with the southeast side neighborhood known as Civano, so he and his wife bought a lot in that community and Michal got busy with his construction project.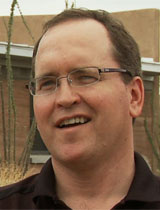 We visit his house in the second part of two stories we are doing on Civano on its 10th anniversary. Hundreds of residents on Tucson's southeast side are planning an all-day party to celebrate the 10th year anniversary of the formation of their now famous neighborhood. It will be held on Saturday Oct. 17th, from 9 a.m. until 4 p.m., and will include tours of homes and a school, an art show, public lectures, food vendors and a bluegrass band.
Civano is one of the largest "new urbanist" communities in the United States that also places an emphasis on sustainable features such as harvesting rainwater and solar panels for clean energy. New urbanist efforts encourage people to walk more by building higher density homes with walking areas and paths relatively close to businesses, restaurants or entertainment.
Judyth Willis moved to Tucson from Iowa and decided to open a bed and breakfast in the community and there are many other like-minded people who chose the neighborhood for some of the efforts that are being made there. Simmons Bunton has a background in urban planning and he decided to move here with his wife when they relocated to Southern Arizona. Lorenzo D'Auria recently opened a restaurant in the area. It features many energy-saving features and D'ioria says one of the best things about being there is the sense of community and cooperation he has noticed at Civano. Brooks Jeffery is the director of the Drachman Institute at the University of Arizona. The institute is dedicated to environmentally sensitive projects and he says Civano provides a living laboratory for observation. He calls it "an experiment to deal with community-based planning at a scale much larger than has ever been done in Arizona."