Sea of Cortez Story by Luis Carrión
The National Park System in the United States is arguably one of this country's most important public programs. What began as a radical idea has become a cohesive parks system with a mission to make the parks accessible to all, and to preserve them for future generations. However, it's important to note that the United States is not alone in efforts to preserve our natural and cultural legacy of the planet.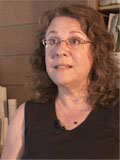 In the Sea of Cortez efforts are underway to protect the rich biodiversity of the region. Susan Anderson is with the Nature Conservancy and is in charge of Science and Project Development. She has been instrumental in developing the Conservancy's Mexico program along the Sea of Cortez. "I think one of the big differences is that there is not a single park that does not have people living in it," she says. "They take the 'man in the biosphere' approach." The objective is the same -to preserve the natural treasures of the land and sea- but the role that the land plays in people's lives is different in the National Park model of Mexico.