Listen:
The state health department says it found more than 100 people contracted both West Nile Virus and St. Louis Encephalitis Virus this year.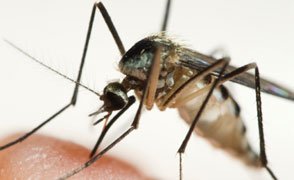 The discovery marks the first time the two diseases have been found together. Both are spread to humans by mosquitoes who have fed on infected birds.
In both cases, people infected may not know they have contracted the illnesses. When they do make their presence known, both appear as flu-like symptoms, but can cause serious deteriorating cognitive function, though this can be temporary.
"Both West Nile virus and St. Louis encephalitis virus are primarily spread by the bite of mosquitoes, and can cause symptoms ranging from fever, headache and body aches to encephalitis or meningitis," wrote Cara Christ, state health department director on her blog.
The co-outbreaks were between May and October, prime mosquito season.The health department says this discovery is another reason people should protect against mosquito bites year-round.
Mosquitoes can be a risk all year, although the mosquitoes themselves aren't noticeably buzzing at barbecues every month of the year.