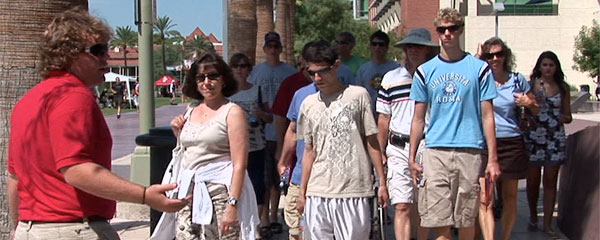 A poor economy and uncertainty about the future haven't stopped students from coming the the University of Arizona in record numbers. The class of 2013 is the largest and most diverse in the school's history. And the most accomplished, posting the highest scores ever achieved by a freshman class.
University of Arizona Provost Meredith Hay says the transformation the university began in 2008 will pay big dividends. Probably the biggest product of that exercise is the formation of the College of Letters, Arts and Sciences, a combination of the Colleges of Science, Social and Behavioral Sciences, the Humanities and Fine Arts.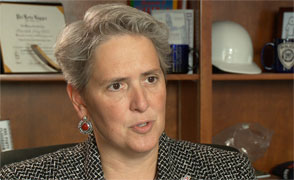 "That's going to put together in one organization some extraordinary opportunities for students to do cross disciplinary studies in ways they never have done before; for researchers to come together in ways they haven't before and efficiencies across the deans' offices," says Hay.
Hay says departmental mergers will result in cost savings, but can't erase the nagging specter of the university budget. Hay points out that federal stimulus dollars are a temporary fix, and when that revenue dries up the university will drop to the funding level equivalent to the 2006 fiscal year.
"The stimulus funds bring us back up where we need to be. But there's a gap, and when those funds run out in 2012 there's going to be a huge gap which then is going to have to be covered most likely by tuition. And so what we have to work with is with the families and the students to say how do we bridge that gap between now and 2012 so its not quite as painful as it is to see it all at once," says Hay.
Chris Nagata looks forward to those discussions. As the newly elected president of the Associated Students of the University of Arizona, he brings years of experience as a member of the three university Arizona Students Association. The ASUA advocates for students with the Arizona Board of Regents and the legislature, which will continue in earnest this school year.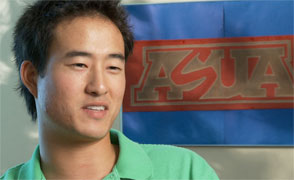 "So students, the Arizona Board of Regents and University administrators will be looking closely to try to work on solving this problem that seems like nobody has the answer to solve yet. so we're really excited to be engaged in those discussions and meetings with partners and hopefully we can have some meaningful productive end results," says Nagata.
In the meantime, ASUA has spent time getting its house in order. Nagata says the group has vowed to make all of its activities transparent and increase outreach to students.
"We'd really like as elected officials and other members of ASUA to go eat lunch with students; go with them, to their organizational meeting; go and meet them on the mall and socialize and really get an honest perspective as far as how the students are living their day to day experiences and what they'd like to see more of from ASUA," says Nagata.
Hay expresses equal enthusiasm when she talks of her expectations for students. At this student centered research institution, she expects them to become engaged in learning.
"To work side by side with Roger Angel, and Nobel laureates, and people who are changing... Whether it's solar energy or water or law or business, undergraduate students, freshmen, have the opportunity to work side by side in laboratories with world renowned professors. And we encourage them to take that opportunity seriously," says Provost Hay.
Nagata pursues a rigorous study of physiology, with an eye on medical school. But that doesn't mean the college experience can't include a heavy dose of fun.
"We're all just looking for an enriching experience at the university but also a holistic experience at the university where it's just not about, not all about books and papers and exams, but also about having a good time, really feeling connected to the university, being proud of calling yourself a Wildcat, and being proud of your accomplishments and we hope to be able to be that vehicle for the students," says Nagata.



Watch Video of the Story