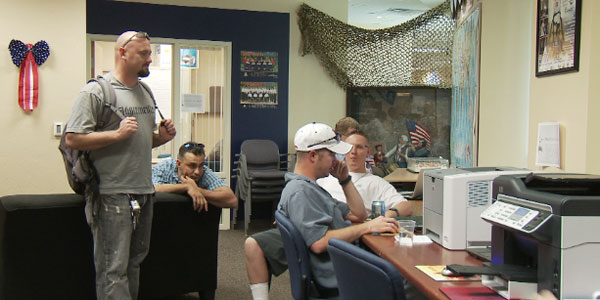 Story by Kim Craft
In the near future we could see campuses flooded with the estimated 2 million Iraq and Afghanistan veterans returning from duty. Matt Randle does his best to make sure that happens. During his tour in Iraq, Randle kept a sign taped on the dashboard of his Humvee reminding him that his service was a means to an end, and that meant an education. While he works on a degree in family studies and human development, he helps other vets navigate the GI bill in his role as student director of the University of Arizona Vets Center.
"In the military you operate on that principal that no one gets left behind, and I believe very much in that every single vet deserves this chance. They promised this to us, they recruited us with this."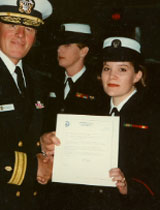 Amy Goodwin sure could have used the help when she went back to college after spending nearly 7 years in the navy. She learned right away that her age and experience separated her from traditional students.
"That's kind of strange, having to do group projects with 22-year-olds, and they say I couldn't come because I was hungover, where I can't do that. I don't drink and I have three kids to take care of. School and kids are my priority where they're still trying to figure out what their priorities are," Goodwin says.
Aaron Simmons felt equally isolated when he resumed his education after spending time in the military. Married with two children, Simmons says colleges aren't set up for non-traditional students like himself. Now he's part of the solution, manning the desk at Veterans services, which puts him in contact with every vet on campus.
"When I first started there was nobody here to help me when I had my issues. Now if somebody comes in with the same issues that I had I know where to send them to, know where they go and there are people here to help and guide them through the process. When I came through there wasn't anybody in that situation yet," Simmons says.
That disillusionment shows in the statistics. Only six percent of veterans using the GI bill graduate. Counselor Michael Marks has spent his career counseling veterans and recalls his early experiences with those struggling to get an education.
"I remembered seeing Viet Nam vets trying to go to school, and [they] couldn't do it. Statistics show vets have a much higher dropout rate from college not because they're not smart, but because of adjustment problems. Quite frankly, I said I'll be damned if I watch this happen to another generation," says Marks.
Veterans dealing with post tramatic stress disorder and the isolation they feel on campus prompted Marks to collaborate with Phil Callahan, an Associate Professor at the University of Arizona Teaching Center, to develop a curriculum to help veterans succeed. The veterans enter in cohorts and the classes have three components: resiliency, learning from a teaching perspective, and leadership.
Says Callahan, "These are our next leaders and they're coming back well-trained. We're refocusing them, giving them a profound educational background. And these will be the leaders that now support us, so we're investing in the next generation."
Early measurments have improved retention, up to 100 percent of those in the second cohort. All of these efforts have not escaped the attention of officials higher up, who chose the Vets Center as the location to announce proposed changes to the GI bill. Congresswoman Gabrielle Giffords says the bill she co-sponsored will extend benefits to veterans taking classes on line, as well as allow those veterans who can't take advantage of their education benefits to pass them along to family members.
"It builds better Americans, stronger communities , and is really an investment into our country. So this is why this bill is so popular from Democrats and Republicans, not just members like me in the armed services committee. Everyone in the Congress understands how important this is, and gets it," said Giffords.
Randle reacted positively to comments from UA President, Dr. Robert Shelton, who says the administration listened to veterans to address their needs. Still, in spite of the extensive network of support now in place, Randle and his fellow student veterans consider this a work in progress.
He said, "We talk about things like priority registration, bringing the VA's mental health people on campus. These may seem like trivial things but make huge impacts in vets' lives.
Meanwhile Marks and Calahan expect to publish their research on the project and foresee extending training to all kinds of diverse populations at risk of not achieving academic success. And they look forward to the real pay off.
Says Marks, "As I tell our students, the only better dream I could have is to go their graduation, and stand with their parents and cry like a baby. That would be the coolest thing of all."