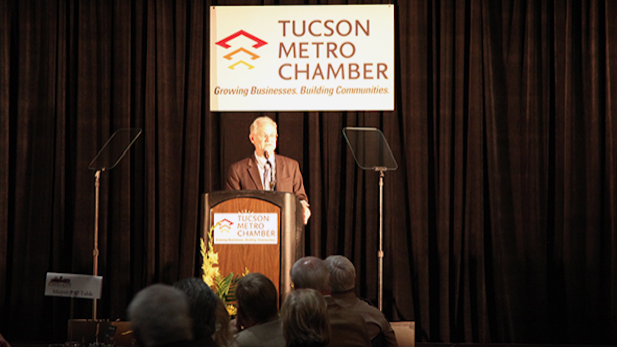 Andrea Kelly, AZPM
Listen:
Tucson's city budget is about $25 million in the red, and it must close that gap before July 1, Mayor Jonathan Rothschild said Tuesday in his annual state of the city speech.
The Democratic mayor, re-elected without party opposition last fall to a second term, said the city needs to develop vacant land, encourage reuse of vacant buildings, and increase home ownership to help improve the city overall and specifically to bring in more revenue for public services.
Each of those measures could generate more taxes for the region. The mayor also said he wants voters to approve a tax increase. Both sales tax and property tax rates have been mentioned for potential increases.
In asking voters to OK an increase, Rothschild said, the city will provide detailed plans about how the money will be spent.
"Services have to be paid for, and so we're going to have that conversation with the community," he said. "In fact, the conversation has already begun, with polling that indicates city voters are willing to consider a half-cent sales tax (increase) to support core services."
Such services include roads, parks, public safety and transit.
The mayor also said voters will be asked in the fall to change the city election system, from the current hybrid system to one that is the same for primary and general elections.
Currently, voters select party nominees in ward-only elections, then in the general election vote city-wide.
The Ninth U.S. Circuit Court of Appeals struck down that system as unconstitutional one week after the city election in November.
"Because we have to be prepared for our 2017 city election cycle, I'm committed to putting alternative systems before the voters this November, so they can decide, for the first time in nearly 25 years, how they want to elect their local leaders," Rothschild said.
Election changes, and a tax increase, must get City Council approval before they can go to the voters.
Read the mayor's speech here

View at Google Docs

|

Download File