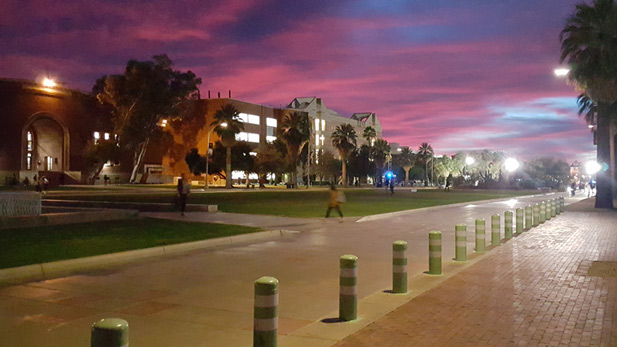 Students walk across the UA Mall as the sun sets in the background. Photo taken December 10th, 2015.

AZPM Staff
Listen:
A student suicide last month on the University of Arizona campus had a ripple effect still being felt.
Members of the campus community say they continue to reflect on how they respond when a student takes his or her own life and how they are working to prevent suicide.
In the wake of any such incident, UA police, administration and mental health service providers follow a specific protocol, one that Sgt. Filbert Barrera, an 18-year veteran of the University of Arizona Police Department (UAPD), knows well.
"It's something that you don't get used to, but you go through your progression," starting with an investigation to rule out foul play, he says.
Although he is now the UAPD spokesperson, Barrera investigated many suicides by students and staff who were part of the campus community during more than four years as a detective.
"I can tell you, thinking about telling the family or having to coordinate with other agencies to let them know someone has hurt themselves and is deceased is hard to do," he says.
"You try to be strong, and you try to pick and choose your words carefully, because I can imagine those words will ring in their ears for a long time."
Once next of kin are notified, others on campus step in to help. That includes Chrissy Lieberman, the UA associate dean of students, whose office identifies others who will be personally affected.
"For anyone who's going to be overwhelmed by that first wave of grief, we want to make sure we have all our resources at the ready," she says. These early contacts can include roommates, classmates, friends and co-workers.
Lieberman's office helps connect that inner circle to support services, often through Counseling and Psychological Services, for students, or Life and Work Connections, for faculty and staff. Both offer confidential counseling as part of the university's network of mental health services.
But it isn't just those closest to the deceased who may need help in the wake of a suicide. Dave Swihart, a counselor for Life and Work Connections, says the loss can ripple out in unexpected ways.
"It kind of shakes the ground a little bit," Swihart says. "It snaps us out of our routines, and we're reminded that life is very precious and there are more important things than the daily grind."
Swihart and Lieberman say the UA has taken proactive steps to prevent suicide and provide its students and staff with mental health support and services.
One step was forming an interdisciplinary Behavioral Intervention Team to reach out to students experiencing mental health concerns and help them navigate the process of seeking services and staying in school.
Lieberman, who chairs the team, says it has seen a dramatic increase in its caseload in the past six years.
"It's something that we deal with frequently," she says. "In the fall alone, we saw about 30 cases of [suicidal] ideation."
Lieberman attributes the growing caseload to a shift in attitudes about mental illness. She says people are more willing to seek help or report that a friend, co-worker or classmate may need help than they ever were before. That is something the university wants to encourage.
"If we start talking about it more openly, the stigma will go away, and people will feel more free to say 'I don't feel great today,'" Lieberman says. "And maybe there'll be someone there to hold them long enough that maybe they'll stick around through that day."