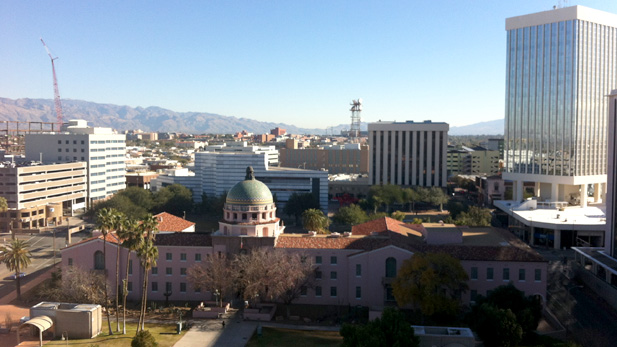 Downtown Tucson.

Fernanda Echavarri, AZPM
Listen:
Tucson's green construction industry is getting some international attention this week. A coalition of Latin American architects and builders are looking to get ideas and form partnerships.
The week-long workshop is called La Idea – the idea. The U.S. State Department is sponsoring the event and the Tucson Hispanic Chamber of Commerce will host.

The goal is to provide business advice, mentoring and connections for Latin American companies interested in establishing business relationships in the United States.
There have been 11 other workshops around the country on various businesses. This one is all about green construction. When organizers were looking for a place in the U.S. that had a strong cluster of green builders and architects – Tucson won out.
"Basically these are jobs for our community," said Ana Greif, an organizer of La Idea.
She specializes in international business incubation partnerships. Companies from Peru, Chile, Colombia and Mexico are part of this week-long workshop. They are being introduced to Tucson businesses in the green construction industry. The hope is that partnerships will develop and foreign companies will move here to do business.
"Today, the City of Tucson and Pima County are advocating strongly to bring in foreign companies," Greif said.
Greif said just one Latin American company deciding to partner with a Tucson business, could mean hundreds of jobs.
"And these are typically really good jobs and really interesting industries as is clean construction which is something pretty unique."