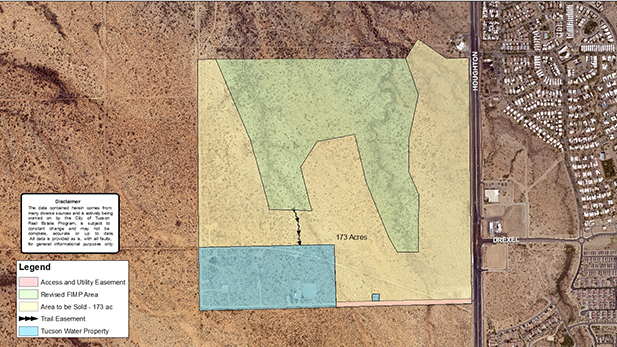 The yellow portion of the parcel indicates the land purchased by Mattamy Homes. The green is the 103-acre Fantasy Island Trails Park. Blue is Tucson Water land with a utility easement indicated in red.

CBRE
Listen:
Mattamy Homes won an auction for 173 acres near the intersection of Houghton and Drexel roads. The company will pay the City of Tucson $8.26 million for the land, which is a part of the Civano Land Parcel.
Civano is a 320-acre parcel made up of the new home site, 106 acres of mountain biking trails known as Fantasy Island Trails Park and a 40-acre plot on which Tucson Water is planning to build a groundwater recharge facility.
Executives at Mattamy Homes see Fantasy Island Trails Park as an asset to the area.
"We're working with a few different stakeholder groups, including the City of Tucson, in order to protect and promote the trail system that's adjacent," said Mattamy's Tucson Division President Josh Robinson. "We're excited to design a unique community that will promote a healthy and active lifestyle."
Robinson said Mattamy is in the early stages of planning, and the company has no plans that would indicate price ranges for homes in the area.
He also said it will be more than two years before the company will begin offering homes in the area for sale.
Mattamy completed work on two developments near Dove Mountain in Marana, and is working on another two developments in Oro Valley.